Stavanger and neighbouring Sola were the first Norwegian local authorities to experience fantastic oil-related growth after the award of the first exploration licences in 1965.
The Shell refinery at Risavika in Sola was completed two years later, while the Norsco base in Tananger became operational as early as 1966.
But things really took off once the Ekofisk field had been discovered in the autumn of 1969 and started trial production on 14 July 1971.
Operator Phillips Petroleum Company moved its offices from the Dusavik base outside Stavanger to Tananger in Sola, and Shell could finally start refining Norwegian rather than imported crude.
Sola's population now rose steadily from 8 400 in 1965 to 15 000 two decades later, and jobs grew even faster – from about 2 000 in 1970 to almost 8 000 in 1985. That averages 10 per cent annually.
Phillips and Shell became cornerstone companies. A large part of their workforce, particularly in Phillips, worked offshore. In addition came newly established oil supply firms.
More jobs were also created in retail, public administration, education, health and social care, personal services and so forth.
Although traditional agriculture remained important for the local authority, the number of farmers gradually declined as a result of mechanisation.[REMOVE]Fotnote: This article is based on the chapter "Elverket i Oljealderen" in I det regionale spenningsfelt. Sola Energi 1913-1999, Kristin Øye Gjerde.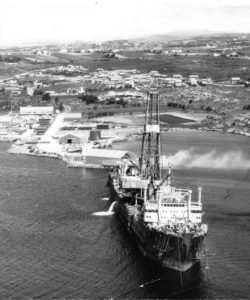 The "agio tax"
The sharp rise in Sola's revenues was attributable entirely to the oil industry, and it found itself in an enviable position during this period. Tax revenues rose even faster than population and jobs.
To give an indication, the local authority's overall income from wealth and income taxes rose from NOK 9.3 million in 1966 to NOK 198 million in 1990. The biggest growth came in 1978-82, when it averaged 39 per cent a year.[REMOVE]Fotnote: Sola local authority, plans.
The secret behind this sharp increase was the tax paid by the oil companies – primarily Phillips – on agio, or the percentage fee charged when exchanging one currency for another.
Under Norwegian law at the time, the companies paid tax on their interest income to the local authority where they had their head office. In making this rule, however, the government had failed to take account of the considerable sums involved.
As operator of the Greater Ekofisk Area, Phillips had placed capital to be used for new investment in banks around the world – particularly the UK.
These deposits yielded substantial interest payments, and tax was payable on converting this income into Norwegian kroner.[REMOVE]Fotnote: Toralv Torstenbø, former chief executive officer in Sola local authority, interviewed by Kristin Øye Gjerde, 22 February 2001.
Sola council is said to have almost gone into shock the first time Phillips paid this agio tax. It suddenly had more money than it could spend.
During the 1970s and early 1980s, Sola's municipal income always exceeded the budgeted amount. Large sums could be transferred every year to a capital fund.
Since the local authority was in a growth phase, additional funding was needed for the big developments it faced. While the rest of Norway experienced a slump in the late 1970s, Sola continued in top gear without a sign of unemployment.
Net income tax revenues came to NOK 55.5 million in 1978, while net spending was NOK 31.9 million. And these fantastic results went on improving.
By 1982, wealth and income taxes yielded NOK 203.4 million – compared with a budget of NOK 146 million, which was upgraded to NOK 190 million during the year.
According to Toralv Torstensbø, the financial controller, agio tax accounted for almost half this amount – in other words, as much as the tax paid by all other enterprises, private individuals and industry in Sola.
Its chief executive officer became a little overweening. In his comments on the 1982 budget, he declared that it would be "natural for Sola local authority to feel a strong regional responsibility and not to be too strict about the traditional division of costs between state, county and local authority."
In line with this open-handed policy, Sola paid for both road projects and an upper secondary modern school which the county council was supposed to fund.[REMOVE]Fotnote: Chief executive officer's budget proposal for Sola local authority covering 1974-85.
Tightening up petroleum tax
This unexpected prosperity undoubtedly created some jealously in the neighbouring local authorities, and the media began to show an interest in the issue.
Local daily Stavanger Aftenblad interviewed Sola's chief executive and controller in 1981, when its photographer took a shot which illustrated the boundless wealth – Torstensbø stood  showering hundred-krone notes over his colleague.
This story was not only read by the paper's regular subscribers. The following day, 150 copies were distributed to members of the Storting (parliament).
That in turn prompted Centre Party representative Lars Velsand to make a passionate speech in which he described the position as a misuse of tax revenues.
He called on the government to intervene so that individual local authorities were unable to benefit in this way. Nor was he alone in finding it unreasonable that a small community like Sola should get so much money.
The result was an amendment to the Petroleum Tax Act on 11 June 1982, which specified that the proceeds from the agio tax should be transferred in future to central government.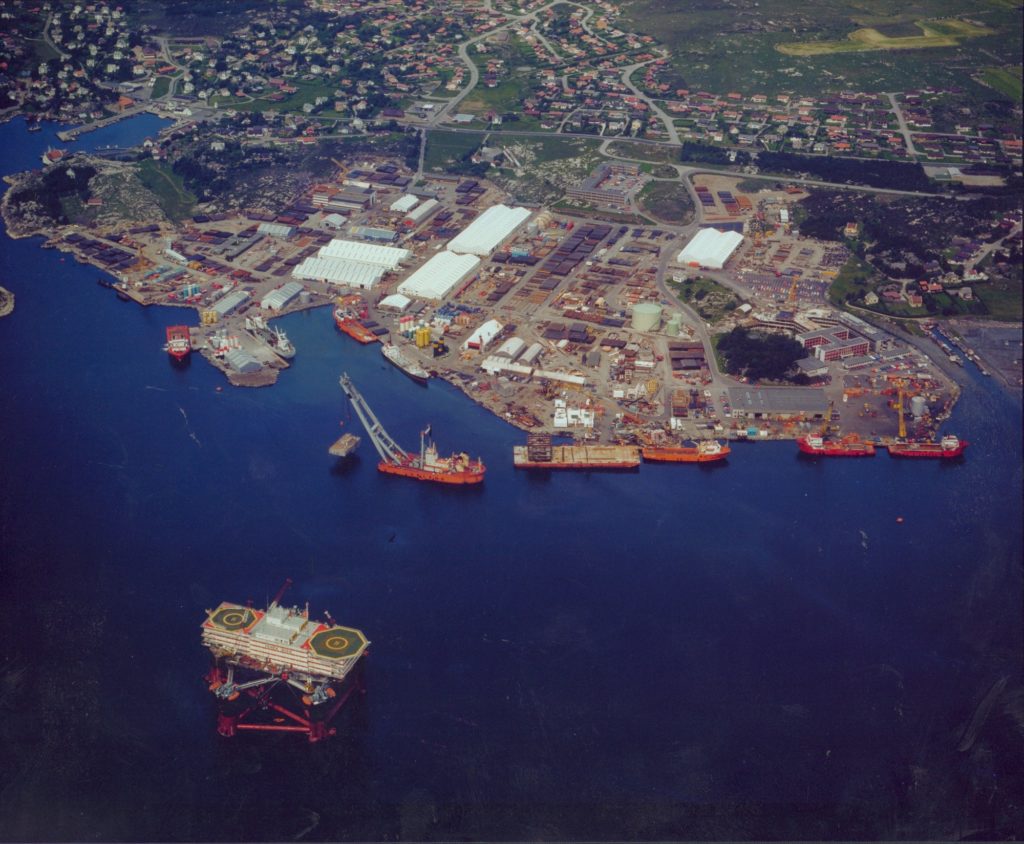 Unfortunately, however, Sola had got used to consuming these revenues. It is easy to learn expensive habits, but not so straightforward to shrug them off again.
Matters had become a little unusual when the council's executive board adopted the style of the oil company chiefs and took a helicopter outing during an ordinary budget meeting.[REMOVE]Fotnote: Oskar Goa, former chief technical officer in Sola local authority, interviewed by Kristin Øye Gjerde, 23 October 2000.
However, most of the tax money benefitted the general public. Paying for Sola upper secondary school and new national and county highways is an example of this.
The council also invested on local authority school buildings and community facilities such as the big sports complex at Åsen, with an outdoor athletics ground and two modern indoor arenas. Dysjaland and Tananger also acquired new sports arenas.
A new cultural centre built in central Sola has a distinctive architecture in brick and glass, with a grassed roof to blend with the surrounding Jæren landscape. With two stages and a public library, this became the community's main venue for events and so forth.
The local authority thereby built up a very good infrastructure. Power cables were laid in the same trenches as water and sewage pipes, a network of cycle lanes was built and street lighting installed.
On the downside, virtually all these investments boosted operating expenses. The council's running costs rose by an annual average of 30 per cent in 1978-84, with the biggest growth in the last three years of the period.
So the calls by Storting representatives to transfer agio tax receipts from councils to central government represented a real threat to local politicians.
Sola joined forces with other local authorities in the same position, including Stavanger, Oslo and Bærum as well as Rogaland county council.
A delegation met the Storting's standing committee on finance to present their case, and secured a commitment to accept a phased reduction in revenues over four years.
The local authorities would receive 80 per cent of agio tax receipts during the first year, then 60 per cent, 40 per cent and finally 20 per cent.[REMOVE]Fotnote: Amendment to the Petroleum Tax Act adopted on 14 May 1982.
In reality, however, the run-down percentages were adjusted to extend over five years in annual steps of 80, 60, 20, 20 and 20 per cent. The total amount going to the local authorities was the same.
The arrangement was controversial to the last, and also uncertain because it had to be approved in each annual government budget.
Living within its means
After the tax change, Sola's chief executive officer saw the writing on the wall. It seemed "to be unquestionable that [Sola] has seen its best days in purely financial terms and must return to setting tougher priorities for various assignments," he asserted in connection with the budget process for 1983.[REMOVE]Fotnote: Chief executive officer's budget proposal for Sola local authority, 1983.
It took the politicians a little longer to accept this reality, but they were forced to reduce investment and operating expenditures in the years which followed.
Cutting back on the new sports arenas and cultural centre was not very desirable. Nor was it pleasant to have to slow down. But savings had to be made, and long-terms spending plans were removed from the budget for possible reintroduction later.
A raft of measures were stripped from the budget in 1985, such as extensions to and modernisation of schools, sports arenas and swimming pools, a new somatic nursing home, housing for the intellectually disabled and sheltered housing. Grants for national and county roads were reduced.[REMOVE]Fotnote: Chief executive officer's budget proposal for Sola local authority, 1985.
Once the government's compensation scheme had ended, Torstensbø – now chief executive officer – told Stavanger Aftenblad that he did not want to paint too gloomy a picture.
"But it's clear that we must set much more moderate financial priorities than we've been used to. To sum up the position, we were previously flush with cash and poor in facilities. We're now flush with facilities and poor in cash."[REMOVE]Fotnote: Stavanger Aftenblad, "Alt blir dyrere i det rike Sola", 19 May 1987.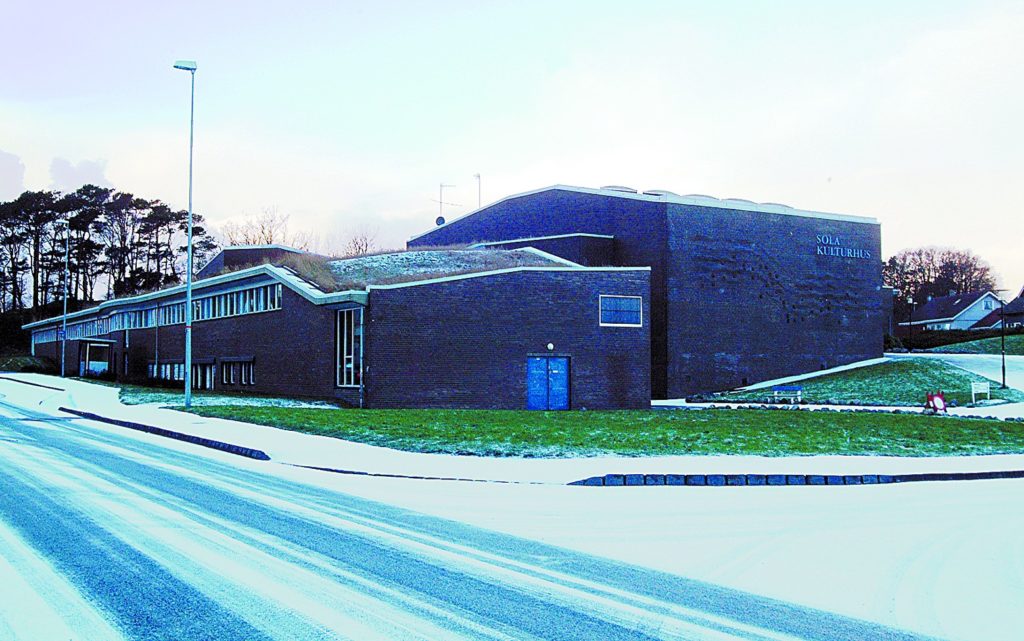 Rogaland county council also raised the question of whether it would be possible to establish a permanent arrangement which allowed local authorities and counties to benefit from some of the tax revenues paid by local oil companies.
The council pointed out that it was otherwise normal practice for Norwegian companies to pay taxes to the local communities they were based in.
This request was turned by Labour finance minister Gunnar Berge because the councils concerned still benefitted from bigger tax payments by oil company employees and on property.[REMOVE]Fotnote: Stavanger Aftenblad, "Rogaland reiser skattekrav på ny", 16 January 1988.
According to Torstensbø, this was only partly true. The big oil companies were not so significant for Sola's income once the agio tax was excluded.
About NOK 2 million was received annually from Phillips, primarily in property tax. The most important taxpayers in the local authority were the roughly 90 companies at Aker Base. These were service providers such as Halliburton, Schlumberger and Baker Hughes.
At the same time, Sola acquired a steadily growing number of affluent residents and a growing share of its revenue came from income tax. Despite the cut-backs, it remained prosperous.