Alexander L Kielland – Norway's worst-ever industrial accident
123 never came back
Lars B Takla, later CEO at Phillips Petroleum Company Norway, was a chief engineer with Phillips when the Kielland accident occurred. He reports that one of his jobs was to participate in a sub-committee for emergency preparedness in a sort of forerunner to today's Norwegian Oil and Gas Association, and because of that he was closely involved in the Kielland accident by mobilising equipment and help, and so forth.
Takla tells: We had divided the North Sea into sectors, and this was a 'sector club' where we collaborated across national boundaries. Ekofisk lay in the green sector, which was also responsible for Denmark and possible emergency response equipment there as well as in Germany, the southern UK and Norway.
Arne Holhjem worked with me to draw up this sector-club plan. We compiled an overview of all platforms and all standby ships to have to hand. As green sector coordinator,
Kielland was, of course, a floating hotel converted from a drilling rig. Demand for personnel in the area was very high while we were pursuing all these parallel developments. We had 4-5 000 people on the pipelay barges alone, so there were a huge number out there.
We'd also placed a new accommodation module on Henrik Ibsen, Kielland's sister rig. Both these units were built for drilling, of course, but demand for such work was not that high at the time while a crying need existed for accommodation – which is why the rigs were converted to flotels.
While Kielland was already offshore, Henrik Ibsen was sent up to Stord [south of Bergen] to be fitted with a modern purpose-built hotel. This was the first of its kind in the North Sea and, for that matter, the world.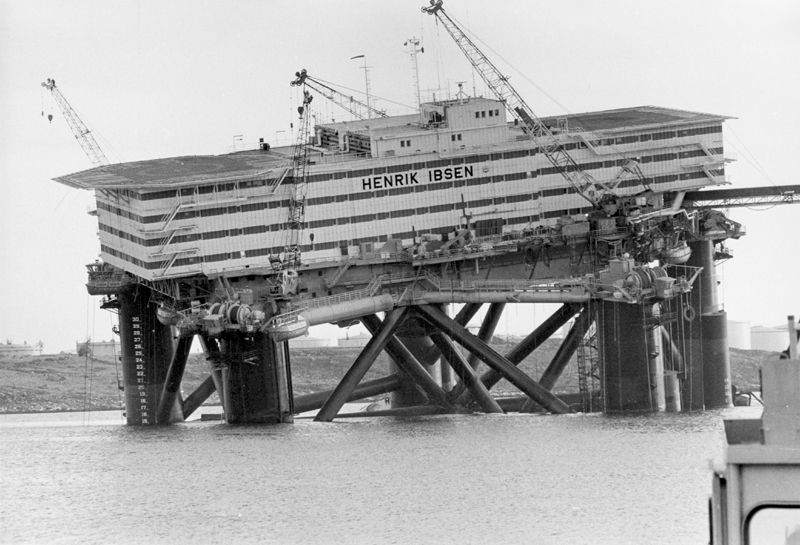 It was then made available for viewing in the harbour at Risavika [outside Stavanger]. We had allowed people to bring their families and take a look. I was out there with my wife and our two boys, and dinner was served to all the visitors after a tour.
We sat with Svein-Erik Bjørkelund, who was information manager in Phillips and responsible for all media contact. I knew him after a couple of joint visits to Teesside. While we sat there and ate, he was called over the loudspeaker and told to go to the radio shack.
He rushed out. When he returned, he said: 'I think we must go ashore at once. Something serious has happened'. I asked what this was, and he replied: 'I'm not sure, but I think it's something terrible'.
Accompanied by my whole family, we boarded a supply ship which was shuttling back and forth between rig and harbour. My family returned home, and I went to the emergency response room at head office which was already in full swing. When we got there, 15-20 minutes or thereabouts had already passed.
On a noticeboard where messages were posted as soon as they came in, I saw it stood: 'Alexander L Kielland tilted over, 18.30'. I knew the weather was bad out there, and thought: 'Dear God, nobody's going to be able to survive this'.
I spent about the next two days there before taking a break and going home. It's clear that having been involved in something like this leaves a mark on you. You become conscious that such things must be avoided at all costs.[REMOVE]Fotnote: Lars A Takla interviewed by Kristin Øye Gjerde, 19 December 2002.
Alexander L Kielland – Norway's worst-ever industrial accident
123 never came back