Employee 1 000 recruited
Gas starts flowing to Emden
The "abandon platform" alarm sounded on Ekofisk 2/4 B – the Bravo installation – at 22.00 on Friday 22 April 1977. An uncontrolled escape of oil and gas had begun in well B-14. Large quantities of oil and gas spurted five-six metres into the air before falling into the sea. What should not have happened had occurred. The question was how this could be possible.
Why did the blowout happen?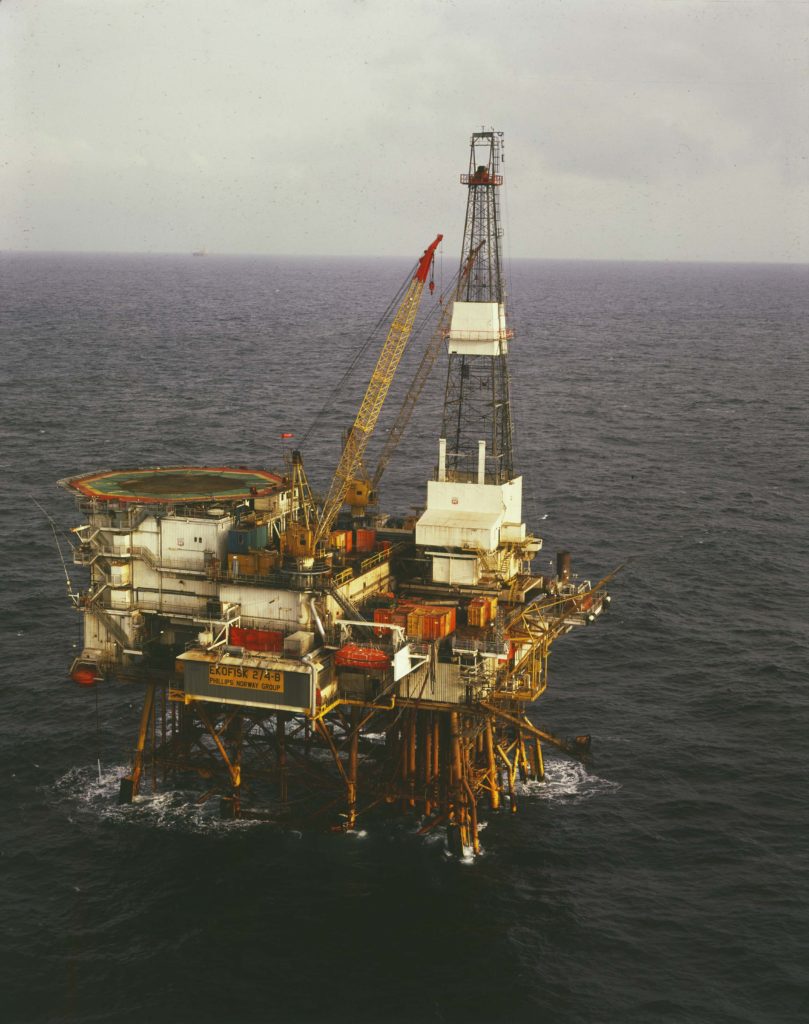 Bravo produced oil from the northern part of the Ekofisk field. Well B-14 had been on stream for scarcely two years and now needed a workover to maintain its output.
This was a fairly risky operation, where the whole string of production tubing from the platform down to the reservoir at a depth of about 3 000 metres had to be pulled out.
The operation required the set of valves on the drill floor – known as the Xmas tree – to be disconnected and replaced by a blowout preventer (BOP).
Between removal of the tree and installation of the BOP, the well was open and the oil and gas were kept in place with drilling mud and mechanical safety arrangements in the tubing.
Signs that something was wrong were received in the morning of 22 April when mud began to emerge from a control line connected to the safety valve. Mud also escaped from the drill pipe when the Xmas tree was removed around 16.30.
At that time, the well could still have been shut in by closing the safety valve on the platform. But that was not done.[REMOVE]Fotnote: Bravo report, Norwegian Official Reports (NOU) 1977-47: 5. The danger signals were ignored, the routines were inadequate.
The immediate cause of the accident was that the downhole safety valve positioned 50 metres beneath the seabed was not properly attached to the tubing. When the blowout had been halted, the virtually undamaged valve was found on the deck – it had been blasted out of the tubing.
Evacuation
A total of 112 people were on board when the accident occurred. It took 15 minutes from sounding the alarm until all of them had been evacuated.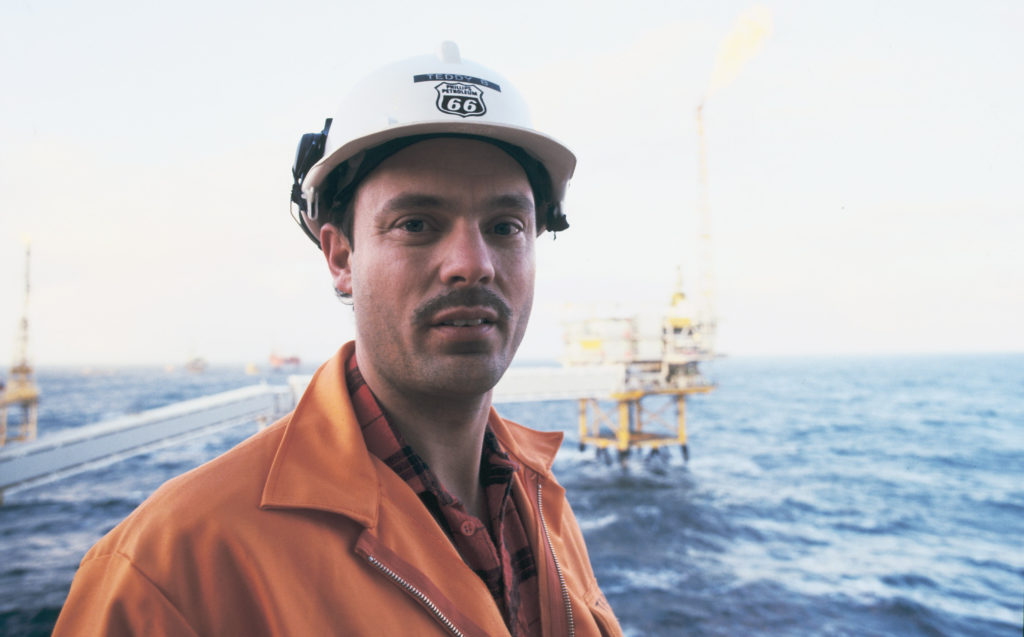 Teddy Broadhurst, who was then offshore superintendent on Ekofisk 2/4 A, says he had been on Bravo that day to visit his opposite number, who was on his first tour in that post. They had talked about emergency preparedness, and the superintendent had carried out a lifeboat drill.
When the accident occurred, the crew on 2/4 A could follow everything that happened over the radio, Broadhurst recalls:
"Everyone made it into the lifeboats except for two people, who climbed down rope ladders, jumped into the sea and were picked up by an inflatable from [standby ship] Seaway Falcon. I then reflected that it was good we'd carried out that drill."
A few days after the blowout, Broadhurst himself was appointed superintendent on 2/4 B with responsibility for the clean-up and restoration of the platform.
"The rig looked dreadful, it was full of oil and mess … But Bravo was a big money spinner and having it operational was important."
"We were given plenty of latitude and broad authority to make purchases, bring in people and get the rig back to its intended condition. Everyone else had to scrimp and save, but we got what we needed here.[REMOVE]Fotnote: Teddy Broadhurst interviewed by Kristin Øye Gjerde, 29 November 2002.
The Bravo platform was producing about 150 000 barrels per day in the spring of 1977, which represented some 50 per cent of overall output from the Ekofisk field.[REMOVE]Fotnote: Kvendseth, Stig S, Giant Discovery. A History of Ekofisk Through the First 20 Years, 1988: 134. 
Well-killers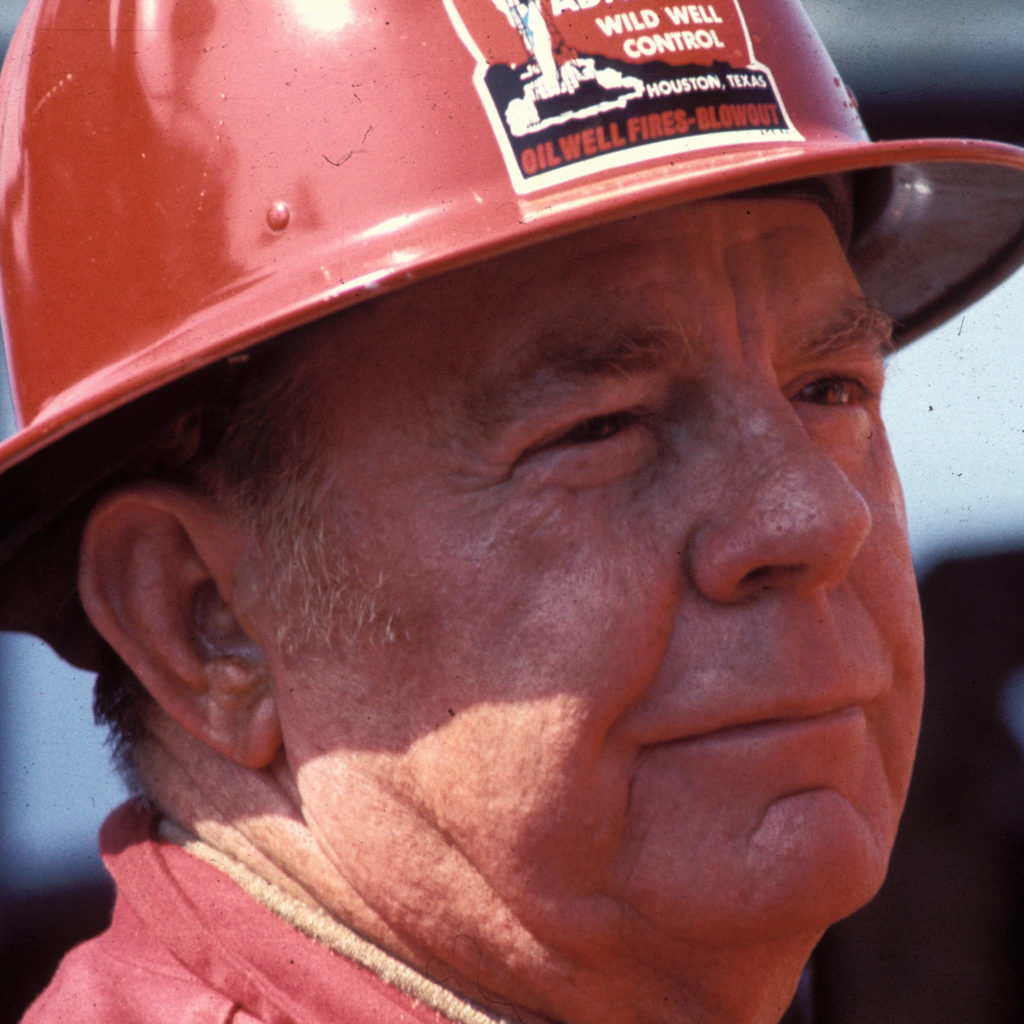 The management of the Ekofisk Complex and the Phillips base in Tananger contacted the Red Adair Company in Houston for expert assistance within hours of the blowout.
By the Saturday evening, well-killers Asger "Boots" Hansen and Richard Hatteberg had arrived in Stavanger and were flown out to the Choctaw barge which was to used as the operational base. Together with three Phillips representatives, they were put down on the Bravo helideck the following morning.[REMOVE]Fotnote: Kvendseth, Stig S, Giant Discovery. A History of Ekofisk Through the First 20 Years, 1988: 135-136. 
Gas stream like a long fuse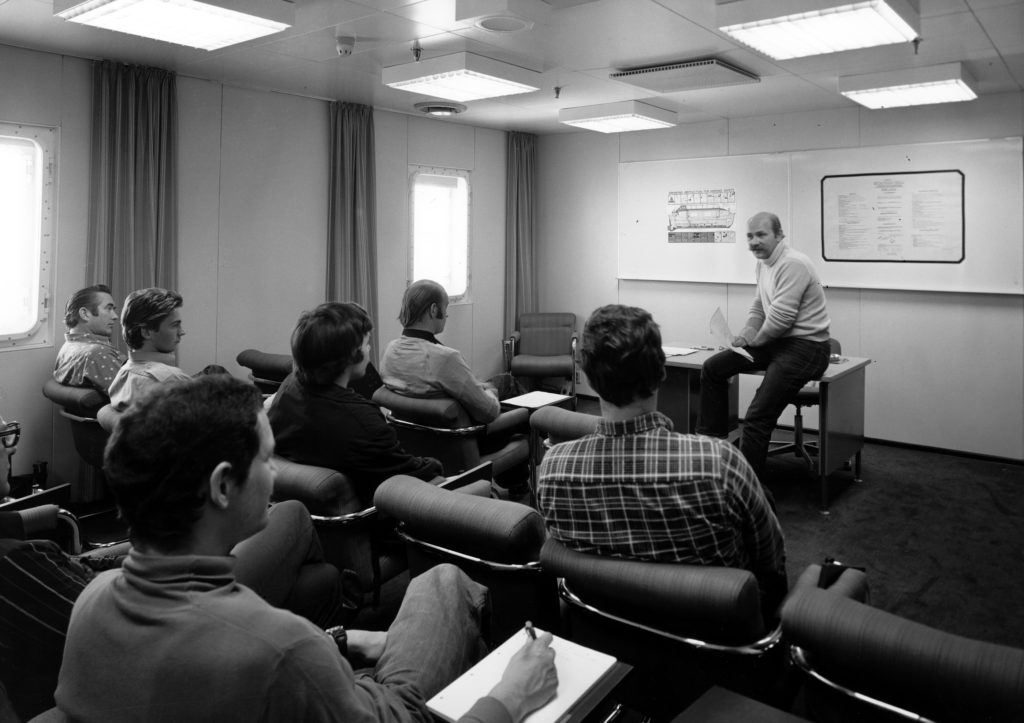 One of the Phillips men was Ekofisk safety supervisor Egil Berle, who had been at home when the news broke:
I jumped with surprise when I saw the first TV pictures, called the base and said that the fire pumps were still going. I knew the platform so well that I could see the water descending had to come from them… I told them that they had to get people on board to turn off the pumps, because components in them would start glowing red-hot while they kept running. If the wind changed direction, there would be an explosion.
Obviously, I was then called to base at once along with my partner, Jerry Dupree, who was also a safety supervisor. Out at the Ekofisk Complex, we were informed by superintendent Jean Adams that Dupree and I were to lead the practical work of securing the well.
So we transferred to Choctaw, which lay alongside Bravo, and divided the time between us, day and night. The fire pumps had already been secured, so that was one less ignition source.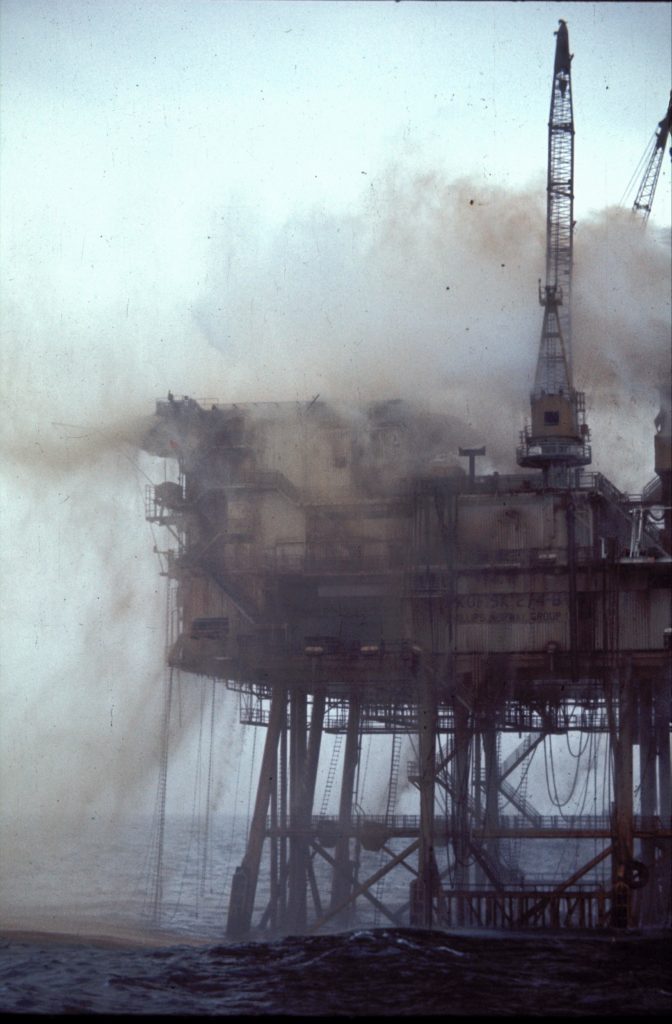 Then we had to give directions to Seaway Falcon, because when it fired its water monitors – two to a side – it couldn't see whether it was hitting the platform with a direct jet. We'd learnt from the Ekofisk Alpha fire in 1975 that this could do a lot of damage.
Another hazard was that we were faced with the world's longest fuse. With the volume of hydrocarbons coming up, a great many oil particles were suspended in the gas. The weather was calm and fine. I was terrified that helicopters (including one with environment minister Gro Harlem Brundtland) and other vessels circling around would intercept this gas stream.
If it had ignited, we'd have lost the platform. So we used Seaway Falcon to shoot water into the gas stream, which broke the fuse for several kilometres. Then we got to work.[REMOVE]Fotnote: Egil Berle interviewed by Kristin Øye Gjerde, 20 June 2003.
Several tries to attach BOP
The BOP had not been fully installed when the blowout occurred, and its lowest section was put on upside down. This did not have any crucial significance for the course of the accident. Even if the BOP had been properly mounted, several hours of work would have remained before it could be closed. However, the faulty installation came to represent a complication in the work of taming the well.[REMOVE]Fotnote: Bravo report, Norwegian Official Reports (NOU) 1977-47: 43.
Berle has recalled the dramatic job: We had to put all the bolts [on the BOP] in place. There were only three-four of them. We got them in position and tightened them. I'll never forget the expressions on the faces of Morco's drilling personnel, largely Norwegians. We had to use sledgehammers and really heavy-duty equipment. They looked at me wide-eyed when I said it was OK to hit. This was down in the BOP room, of course, and the oil jet was shooting up through the drill floor. It occasionally wavered and hit a beam, and was also full of gas. The only thing to do then was to cover your nose and mouth and get out until the air had cleared.
We all knew that hitting steel with a sledgehammer can cause a spark. They were incredibly tense to start with, but when I said 'now you can hit', they hit. And we got it to tighten, after all.
The first time we tried to close the well with this BOP, Phillips information manager Sto Lærdal was present and wanted to take pictures. I remember we tried to shut it, and everything turned so quiet. The massive noise which vibrated through your body suddenly ceased. And then it began again with a bang …
I thought: 'Damn, I should never have allowed [Lærdal] to come here'. Because I thought we were about to be blown sky-high, and then the jet of oil and gas resumed. But we got the well shut down with the next attempt – and that was right on the edge. This was a downhole safety valve (DHSV), after all. Some of the senior people were there, including Paul 'Red' Adair, 'Boots' Hansen and a Norwegian. We discussed in detail how much pressure the valve could cope with.
One issue was the yield strength of the metal. How much torque could be applied? After we'd agreed on the maximum, Adair said 'One more hatch' – another turn of each screw. And he got what he wanted. Whether that's what did it, I don't know, but it was the maximum and a bit more of what we dared to apply – and it held.[REMOVE]Fotnote: Egil Berle interviewed by Kristin Øye Gjerde, 20 June 2003.
The myth of Adair and Hansen
Many reports of the Bravo blowout suggest that the rogue well was brought under control by "Red" Adair and "Boots" Hansen alone.[REMOVE] Fotnote: Ryggvik, Helge and Smith-Solbakken, Marie, Blod, svette og olje, Norsk oljehistorie volume 3, Oslo, 1997: 183But Sto Lærdal, information manager in Phillips at the time, maintains that this was not the case: "Adair arrived towards the end of the operation. It was a real PR coup. All he did was assist. But his arrival helped to shift attention towards him. He flew out to Bravo on Friday afternoon and by about 11.00 on Saturday the oil flow had been halted."[REMOVE]Fotnote: Bjørn Ståle "Sto" Lærdal interviewed by Susan Box, 26 September 1995.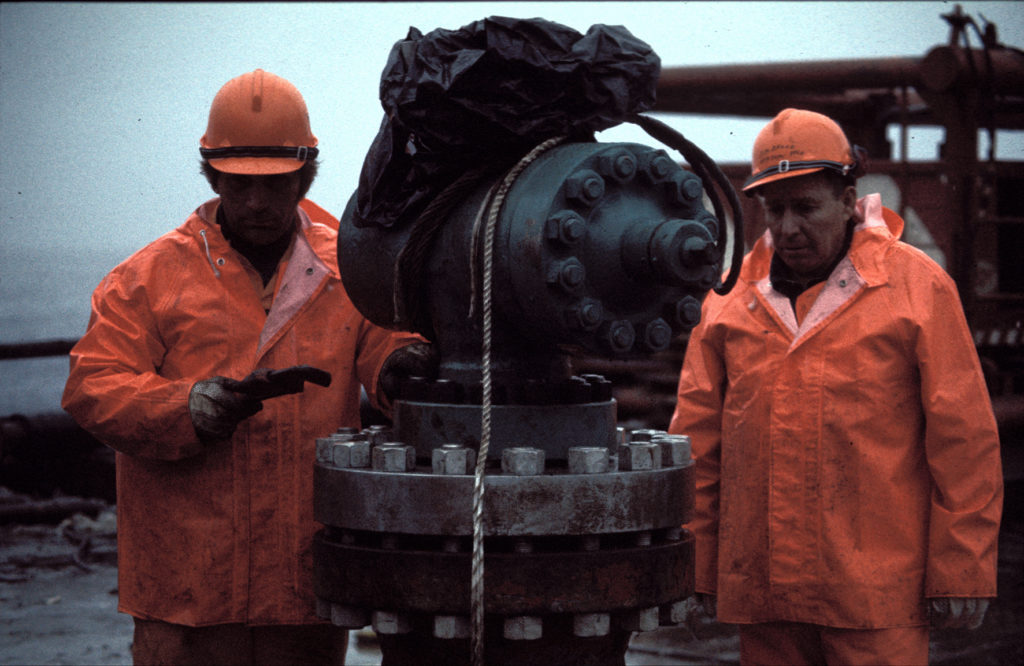 This impression is confirmed by Berle, who led the kill operation most of the time. "[Adair] naturally had experience. He was a personality and he was a calm presence – 'we'll fix this fine'. That calm was communicated to the others involved. But those who did the job were actually the drilling crew, Norwegian lads who stood hammering and hitting, and did the heavy work.
"It wasn't actually that scary to be involved in. We were so geared up to getting the job done. This was a new challenge. We were used to facing challenges every single day. You had to find solutions, not simply try to create obstacles, and a way to implement them as safely as possible.[REMOVE]Fotnote: Egil Berle interviewed by Kristin Øye Gjerde, 20 June 2003.
Blowout as media event
No previous single event in Norway's oil industry attracted as much international attention as the Bravo blowout. Stavanger was besieged by almost 300 journalists from the whole world. Reports from Ekofisk were front-page news in all the countries bordering the North Sea, with the environmental aspects of the blowout as the issue given the greatest prominence.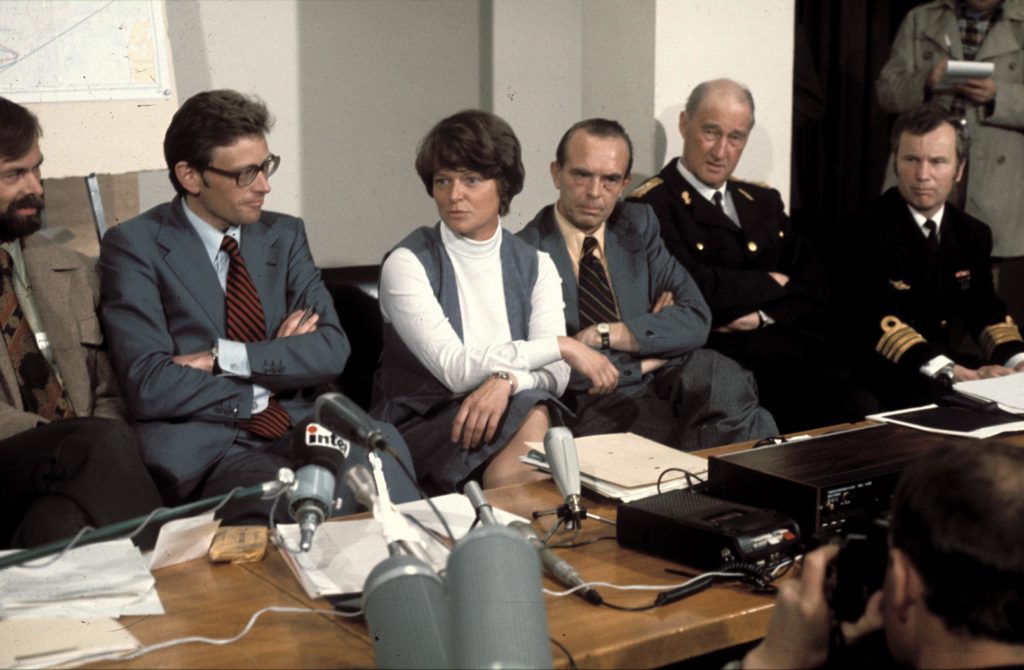 People responding to press questions included director general Hans Chr Bugge at the Norwegian Pollution Control Authority, environment minister Gro Harlem Brundtland, Dag Meier-Hansen from the NPD, Phillips Norway CEO Gordon Goering, and Haakon Blauw from the same company.
Lærdal has said that the accident started out as a media disaster. In reality, Phillips only had one information officer and he did not always have so many details to give. Press conference facilities were poor and no press centre was provided, which meant inadequate working conditions for the journalists. Stavanger also had few hotel rooms to offer. All this put the media in a bad mood. A number of the journalists knew little about the oil industry and were looking for background information – and little of that was available. The actual accident was far out to sea, where none of the press had access. Press conferences were not held at specified times, but whenever something happened – and that could be in the middle of the night. Matters were not helped by the fact that a reporter from the New York Times was able to get offshore and could reassure his colleagues that he had learnt a lot on the trip.
When Adair entered the scene, some journalists naturally turned eagerly to his arrival and he rapidly acquired the status of a hero.[REMOVE]Fotnote: Bjørn Ståle "Sto" Lærdal interviewed by Susan Box, 26 September 1995.
Improving routines
An official commission of inquiry into the Bravo incident was appointed as early as 26 April and charged with identifying the causes of the accident. Published on 10 October 1977, its report identified certain technical weaknesses in the equipment but found that the main culprit was human error. Work routines needed upgrading.[REMOVE]Fotnote: Bravo report, Norwegian Official Reports (NOU) 1977-47.
Much has subsequently been done to improve safety on Ekofisk, and Berle – who was health, safety and environment (HSE) leader for the field when interviewed in 2003 – summed up some of the advances. One of the most important responses was the requirement introduced by the NPD that the BOP always had to be fully in place when workovers were due. It couldn't be in separate components which would take time to assemble.
A procedure – known today as a safe job analysis (SJA) – was introduced where people involved in an operation were brought together in advance to discuss what was to be done and how. The idea is that everyone understands what's happening.
Should somebody in a work team be uncertain the job, they can call for an SJA. If it's started or is under way, or a new person joins the team, they'll be told what's to be done step by step. You go through each element, the hazards it presents, compensatory measures, and who'll be responsible for them.
Although this takes up a lot of working time, we may not be able to document afterwards that it prevented an accident. But in our heart of hearts we know it does. We know that when you're doing routine operations for the n'th time, it can suddenly go wrong.
Expensive but valuable lesson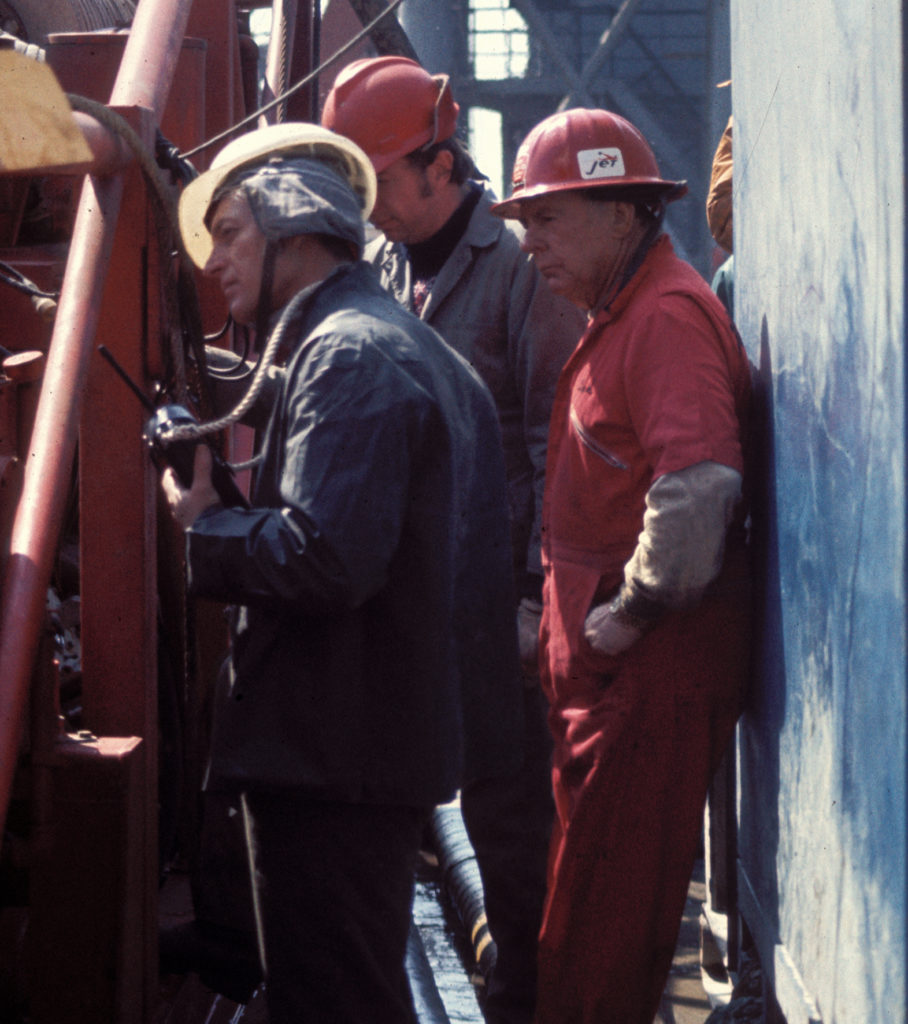 Given that nobody was injured or killed, and that the blowout did not cause an environmental disaster either, the Bravo incident must be characterised as a useful but expensive experience.[REMOVE]Fotnote: Bjørn Ståle "Sto" Lærdal interviewed by Susan Box, 26 September 1995.
Roughly 9 500 tonnes of crude oil were released during the 7.5 days the accident lasted. Only about 1 000 tonnes were recovered. Dispersant chemicals were confined to the area close to the platform for environmental reasons.
The rest of the oil degraded naturally in the sea, so that none of it reached the shore. But the blowout naturally unleashed a political debate on the environmental impact of the oil industry.
One consequence was that the start to exploration off Norway above the 62nd parallel (the northern limit of the North Sea) was delayed for about two years.[REMOVE]Fotnote: Kvendseth, Stig S, Giant Discovery. A History of Ekofisk Through the First 20 Years, 1988: 140-141.
Within Phillips, the blowout contributed to a general rise in safety awareness. According to Rolf Wiborg, who later became technical vice president, the Bravo accident report was obligatory reading when he joined the company in 1978. This document found that people had jobs they were unqualified for, and that all danger signals were interpreted in a favourable direction and so forth. These signs were not taken seriously. Much emphasis was subsequently given during manager training to ensure that they had a mindset which ensured that minor incidents would not develop into disasters.[REMOVE]Fotnote: Rolf Wiborg interviewed by Kristin Øye Gjerde, December 2002.
Employee 1 000 recruited
Gas starts flowing to Emden