It became clear in the early 1990s that several of Norway's oil and gas fields were nearing their productive life. Legislation to govern the shutdown process was therefore required.
Various statutes and decisions were unified and expanded with the passage of the Petroleum Act on 29 November 1996. This included the first provisions on the process for shutting down and removing platforms and other large petroleum facilities.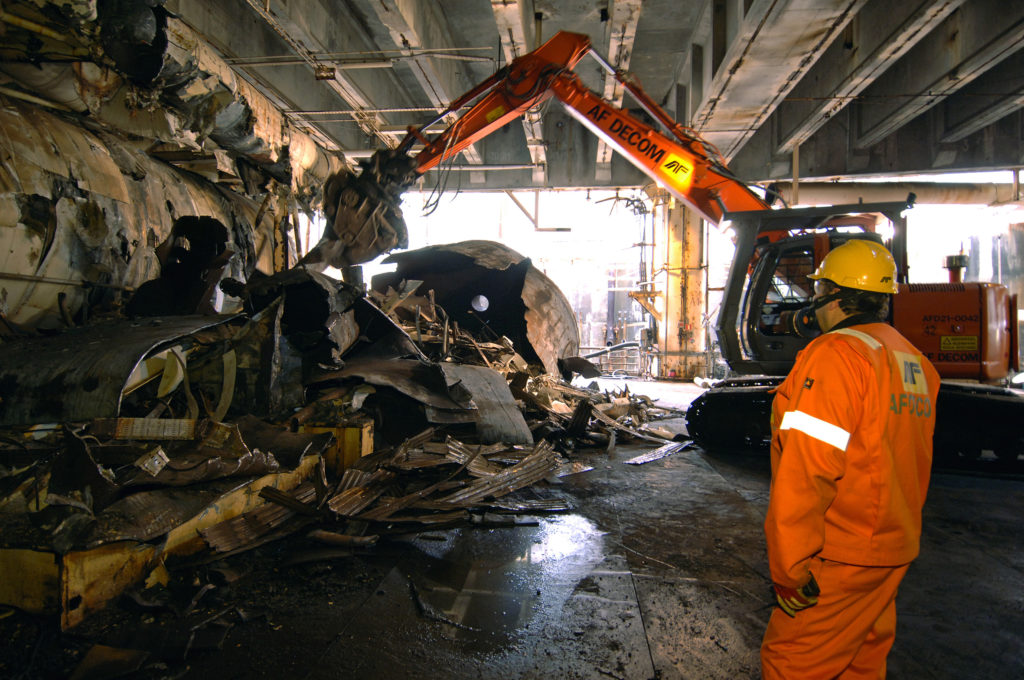 Such cessation involves taking away all or nearly all of the physical installations on the field and plugging all the wells to prevent possible leaks from the reservoir.
The weight of steel and equipment to be removed from fixed platforms on the Norwegian continental shelf (NCS) totals almost 1.8 million tonnes.
Most of this must be picked up on the field by heavy-lift vessels and shipped to land for treatment and scrapping. If the whole topsides weigh less than 20 000 tonnes, they can be lifted off in a single operation.
Production floaters can be towed to land for taking apart with the aid of cranes at the breaker's yard. Steel and equipment on these weigh about 1.1 million tonnes.
The concrete hulls used on a few floating platforms will probably end up being scuttled in deep water.
In addition come the 10 big concrete Condeep gravity base structures (GBS), and not least the subsea installations on the many fields spread from the Barents Sea to the Danish boundary.
Since drilling began on the NCS in 1966, 6 283 exploration, appraisal and production wells have been sunk in the Norway's North and Barents Sea sectors and the intervening Norwegian Sea.
Of these, 4 731 are regarded as part of the production process and almost 60 per cent have ceased to be used. About 600 remained to be plugged.
Platform removal is therefore set to be a big and extensive activity in coming years, which will largely benefit Norwegian industry. The value of such work has been put at more than NOK 500 billion.[REMOVE]Fotnote: Vikane, Allen, Development of a Decommissioning Cost Estimating Model for Oil and Gas Fields on the Norwegian Continental Shelf, MSc thesis, 2018: 215.
Historical overview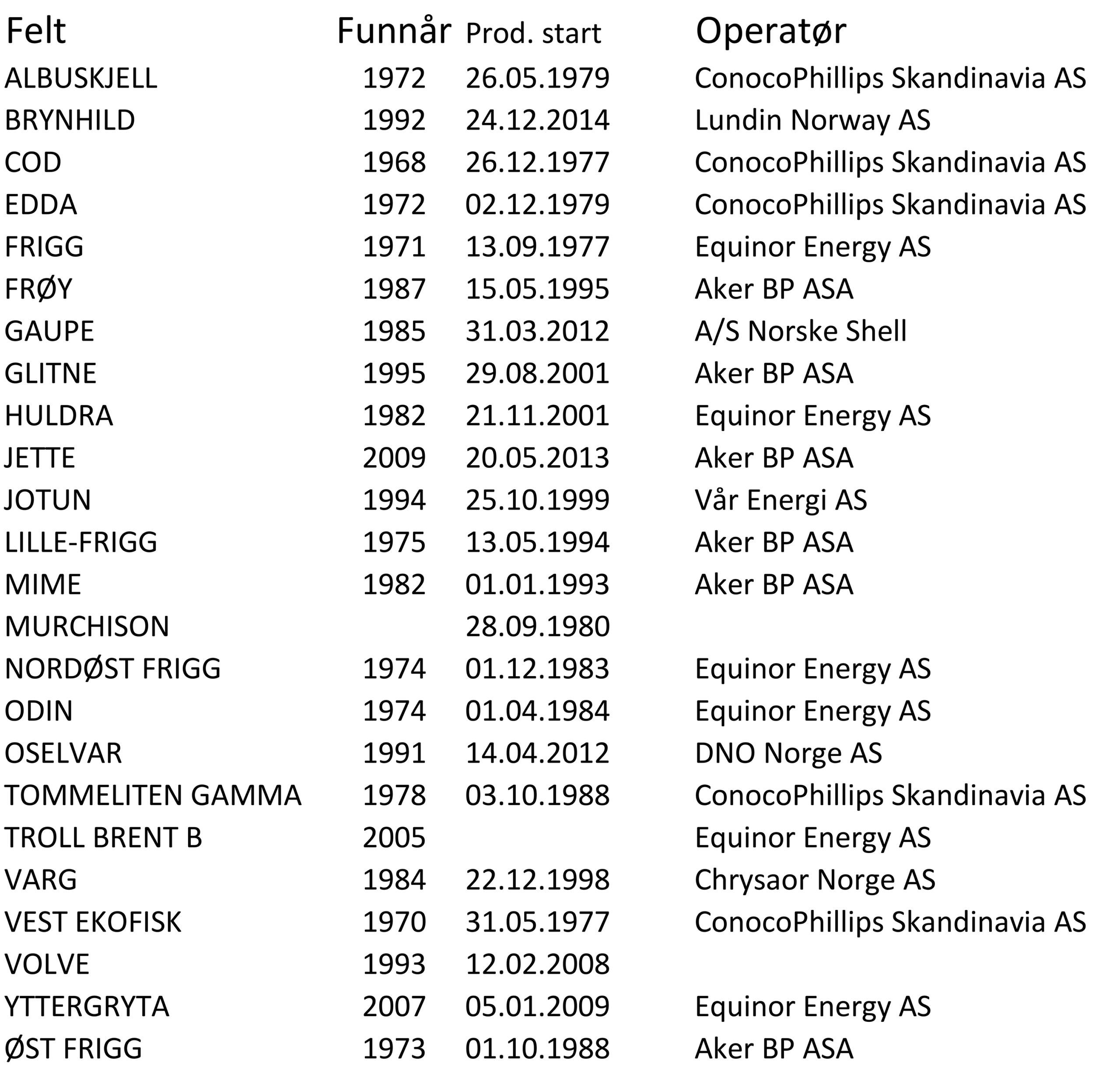 The Odin platform, which was considered part of the Frigg area, was removed by Aker Maritime in 1996-97 and shipped to Stord south of Bergen.
This ranks as the first complete production platform to be removed from the NCS, with 98 per cent of the installation being recycled.[REMOVE]Fotnote: Frigg Industrial Heritage, Odin, http://www.kulturminne-frigg.no/modules/module_123/proxy.asp?C=24&I=155&D=2&mid=21. [Accessed 31 January 2019].
The first structures to be removed in the Greater Ekofisk Area were Cod and Edda. Production had ceased from the following NCS fields at 1 January 2019.[REMOVE]Fotnote: Norwegian Petroleum Directorate, Fact Pages [Accessed 31 January 2019].
So this is not a new industry on the NCS. Apart from the major Frigg and Ekofisk I projects, however, activity has been modest since overall Norwegian production began to decline in 2005.
However, these cessation and removal operations are set to expand steadily in coming years as operating costs exceed revenues on more and more fields.
Although no legal requirements on how platforms were to be removed existed before the late 1990s, the government required cessation costs to be calculated from the late 1980s.
These estimates were included in the field's plan for development and operation (PDO), and the licensees were required to set aside funds to pay for ultimate removal.
Ceasing petroleum activities is now subject to the provisions of the Petroleum Act, which specify that a licence must prepare a plan for shutting down and disposing off a field's facilities.
This must be done in good time – two-five years before production finally ends – and regulations issued under the Act set out the required content in such a cessation plan.
It must comprise two parts – a disposal section and an impact assessment. These national requirements comply with recommendations in international agreements.
The impact assessment must describe the anticipated environmental and climate effects of the disposal solutions which have been assessed.[REMOVE]Fotnote: Equinor, Avslutningsplan Statfjord A, Konsekvensutredning, August 2018.
Parameters for removing obsolete facilities are specified in the UN convention on the law of the sea (Unclos). On that basis, the International Maritime Organisation (IMO) issued guidelines on decommissioning offshore installations in 1989.
Designed to safeguard freedom of navigation, these are not binding. Generally speaking, they call for the removal of fixed facilities with a steel jacket weighing more than 4 000 tonnes.
These structures must be located in areas with waters less than 75 metres deep, or sections left standing in deeper waters must provide a free sailing draft of 50 metres.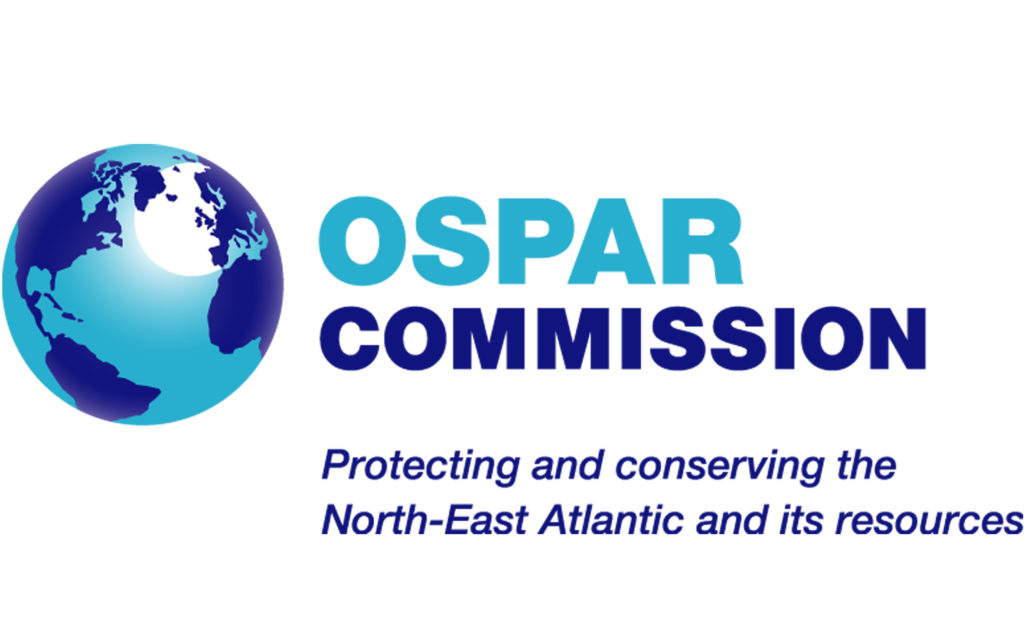 Where the north-east Atlantic is concerned, the Oslo-Paris (Ospar) convention has established specific criteria related to redundant offshore installations.
Its decision 98/3 does not impose a general ban on dumping or abandoning such structures. Full removal is required for topsides and steel jackets weighing less than 10 000 tonnes.
Since the jackets for the drilling and production platforms on Frigg weighed about 9 200 and 7 600 tonnes at installation, their removal was mandatory pursuant to Ospar 98/3.
This enactment permits exceptions if the national authorities can demonstrate that they are justified on technical, safety or environmental grounds.
If exporting installations for breaking up abroad is relevant, provisions the European Economic Area agreement which regulate such transactions.[REMOVE]Fotnote: Aker BP, Avvikling av de opprinnelige bore- og prosessplattformene på Valhall. Forslag til program for konsekvensutredning, 28 June 2018.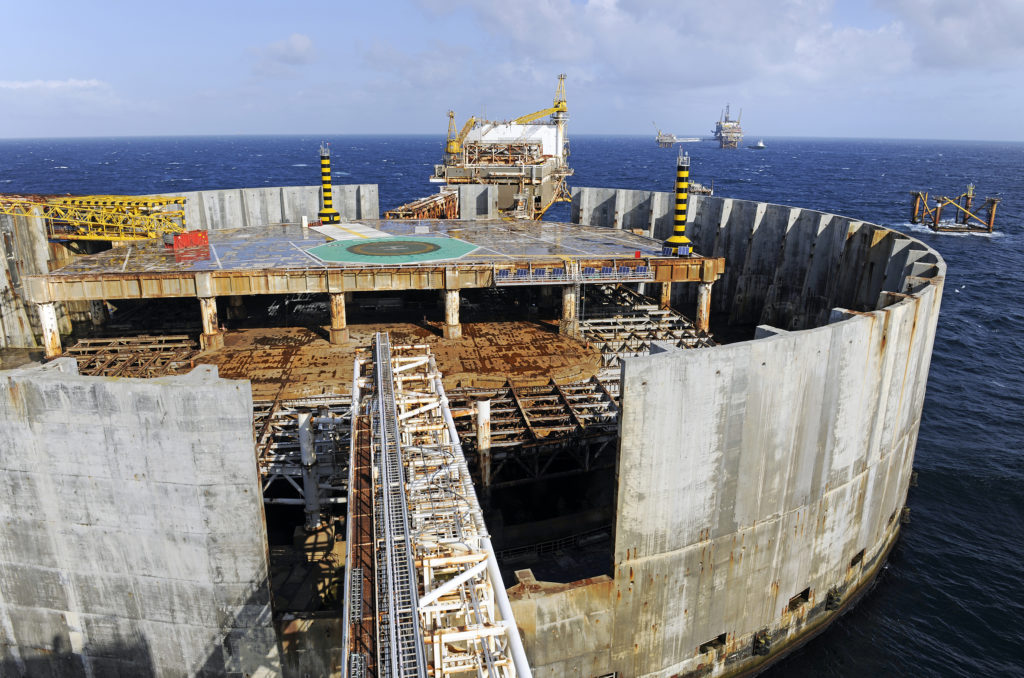 The big concrete structures, such as the massive fixed Condeeps, have been considered for exemptions in accordance with these rules.
It has been accepted on the NCS that the Ekofisk tank and the Frigg GBSs can remain after their topsides have been removed. The same is true of Brent and Beryl in the UK North Sea.[REMOVE]Fotnote: Shell UK, Brent Bravo, Charlie and Delta GBS Decommissioning Technical Document, Shell report number BDE-F-GBS-BA-5801-00001, February 2017.
Moreover, the Norwegian Petroleum Directorate (NPD) has initiated two studies to examine opportunities for removing the concrete giants in connection with future shutdowns.[REMOVE]Fotnote: Dr techn Olav Olsen AS, 11318-OO-R-0001-B Disponering av betonginnretninger, 19 October 2010.[REMOVE]Fotnote: Dr techn Olav Olsen AS, 12635-01-OO-R-001 Markedsrapport knyttet til avslutning og disponering avslutning og disponering av utrangerte innretninger, 23 April 2018.
NPD guidelines
As a government regulator answering to the Ministry of Petroleum and Energy, the NPD's main goal is to help secure the highest possible value for society from the oil and gas business.
This is achieved through efficient and prudent resource management. With other official agencies, it will ensure that the petroleum sector is regulated in an integrated manner.
The NPD establishes relevant operating parameters, issues regulations and takes decisions where it has been delegated responsibility.[REMOVE]Fotnote: NPD website.
Plugging wells
Wells can be abandoned either temporarily, if opportunities/plans exist for future reopening, or permanently. In the latter case, it must be sealed in perpetuity – in practice 600-700 years.[REMOVE]Fotnote: Øia, T and Spieler, J O, Plug and abandonment status on the Norwegian continental shelf, 2015.
A method commonly used for describing the phases in plugging a well comes from Oil & Gas UK.[REMOVE]Fotnote: Oil & Gas UK, Guidelines on Well Abandonment Cost Estimation, 2015. This splits the process into three phases and four levels of complexity. The phases are:
reservoir shut-in: pumping down kill fluid with a density sufficient to prevent fluid entering the borehole from any exposed formation in the reservoir, and installing mechanical plugs
temporary abandonment: removing piping and equipment from the seabed (everything above production packers), logging existing cement and installing permanent barriers
wellhead removal: with explosives, cutting by special tool or water under high pressure.