The company's safety philosophy was originally presented in a handbook as far back as the start to production in the Greater Ekofisk Area. One of its basic rules still applies: "Our work is never so urgent or important that we cannot take time to do it safely and in an environmentally responsible manner".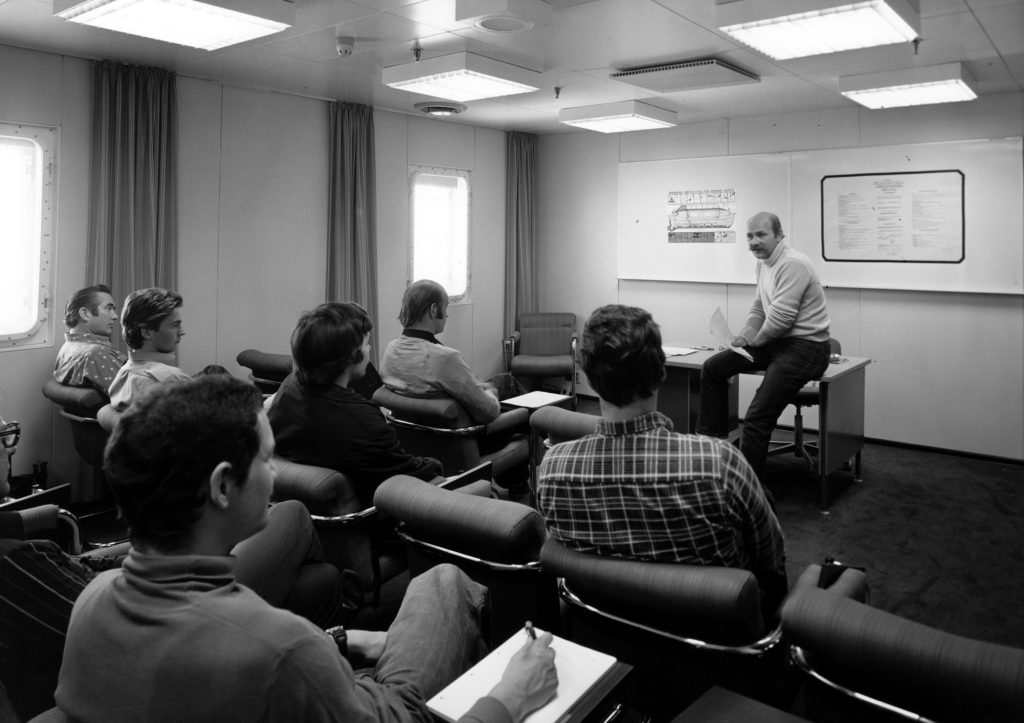 Egil Berle, the first Norwegian to be appointed as a safety adviser in 1974, says that several of the accidents experienced in the early years led to stricter safety routines in various areas.
After the first helicopter crash in 1973, survival suits became mandatory. The Ekofisk 2/4 A fire in 1975 led to mandatory fire drills and better routine evacuation exercises.
The Ekofisk 2/4 B blowout in 1977 produced the regulation that an extra blowout preventer (BOP) should always be used in well operations. And internal control systems were adopted fully following the Alexander L Kielland disaster.
Such safety measures have eventually become very extensive and detailed, and involve both technical improvements and more secure working methods for all operations.
In the early 1990s, the safe job analysis (SJA) principle was introduced. This requires all personnel to contribute personally to planning and preparing critical work operations.
That has made a strong contribution to employee involvement, including attention to hazards, removing risks and taking heed of the precautionary principle.
Collectively, the many measures adopted in this area have contributed to making the offshore workplace much more secure.
Safety adviser
It used to be customary to have safety advisers who were not qualified medics on the Ekofisk installations. From around 2000, many of their duties have been taken over by the health, safety and environmental (HSE) coordinator, who must have expertise as an offshore medic.
One of the adviser's most frequent jobs was to hold meetings with and give tours to new arrivals on their platform in order to provide explain all aspects of safety on board.
This was followed by a tour of the accommodation and instructions on where to muster in the event of an alarm. Their supervisor is then responsible for introducing them to the actual work.
Health service
A professionally qualified nurse (medic) is now required on all regularly manned installations. This was not mandatory before 1977, with health services on board usually provided by a person with some kind of medical background.
The "medic" term was adopted, like so much else, from American and British usage. They were initially only men, but more women filled this post from the late 1970s.
HSE coordinator
The medic post has been redesignated as a health, safety and environmental (HSE) coordinator on several of the installations. They are responsible for coordinating and organising activities in this area.
Put briefly, HSE work or internal control deals with preventing, identifying and preventing repetition of harm to people, the environment and material assets.
It is intended to safeguard such aspects as:
a good physical and mental working environment
a satisfactory level of safety in the activity
preventing damage to health or the environment from products or services delivered by the activity
protecting the natural environment against pollution
good emergency preparedness.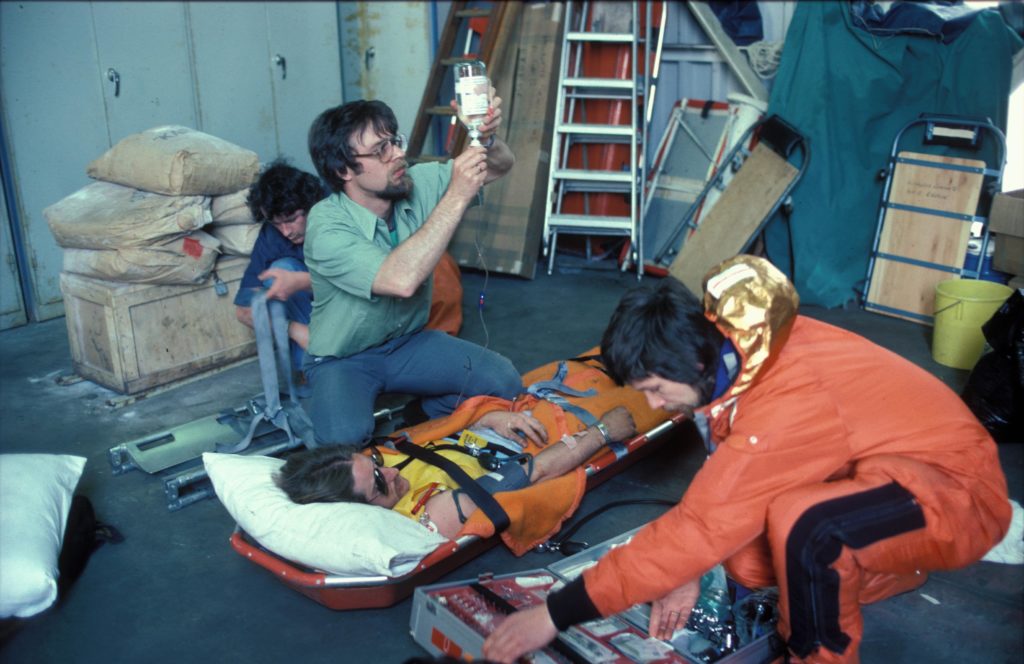 An HSE coordinator offshore must be a qualified medic/nurse and have completed a safety supervisor course and various emergency preparedness courses.
Their most important role is to function as an offshore medic with responsibility for first aid. In addition come planning and provision of training and drills for emergency response – evacuation, fire and so forth.
They are also responsible for establishing emergency response lists and helping to investigate incidents, as well as following up safety programmes and campaigns.
These coordinators also play a key role in periodic HSE meetings. They are among the leading personnel on a platform, which each has three of them because of the tour rotation.
Security group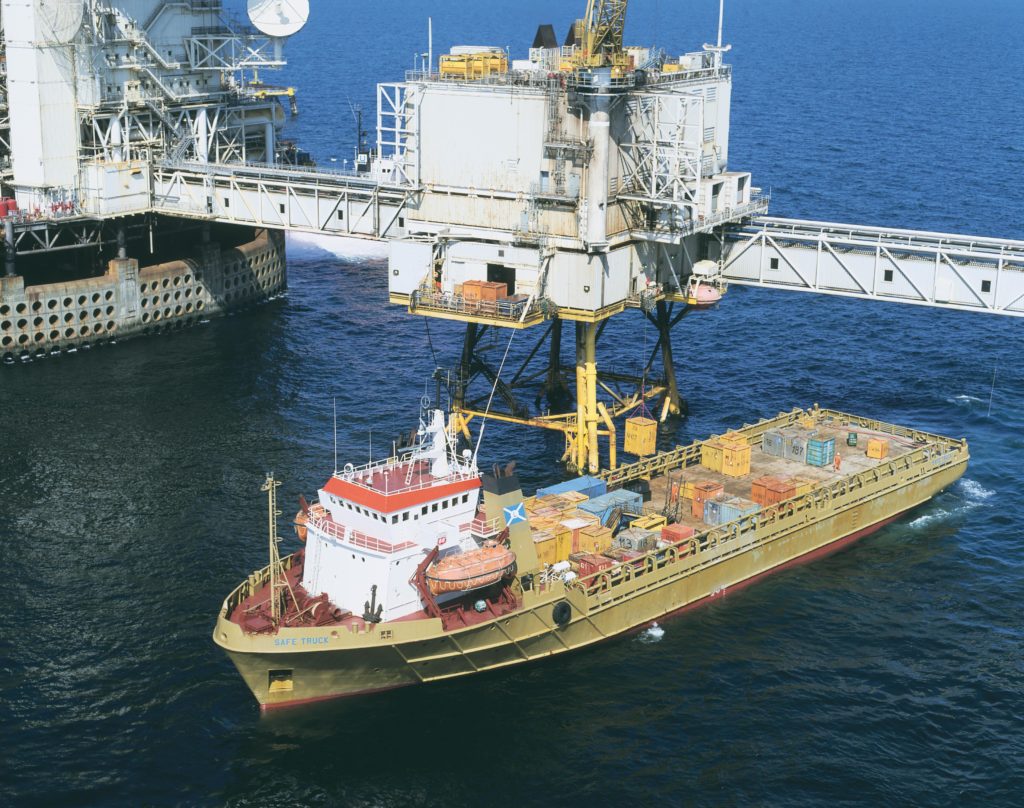 The security group, operational in the Greater Ekofisk Area until 1 January 1992, comprised a handful of people and answered organisationally to the safety department.
Its job involved looking for missing baggage and investigating and preventing theft. Narcotics have been a problem area tackled by the group, along with stealing from lifeboats.
The consignments shipped between the Tananger base and the Ekofisk platforms are worth a great deal, and have been monitored by spot checks.
The security group also prepared information manuals for all the platforms, and eventually became involved with computer security.
Offshore chaplain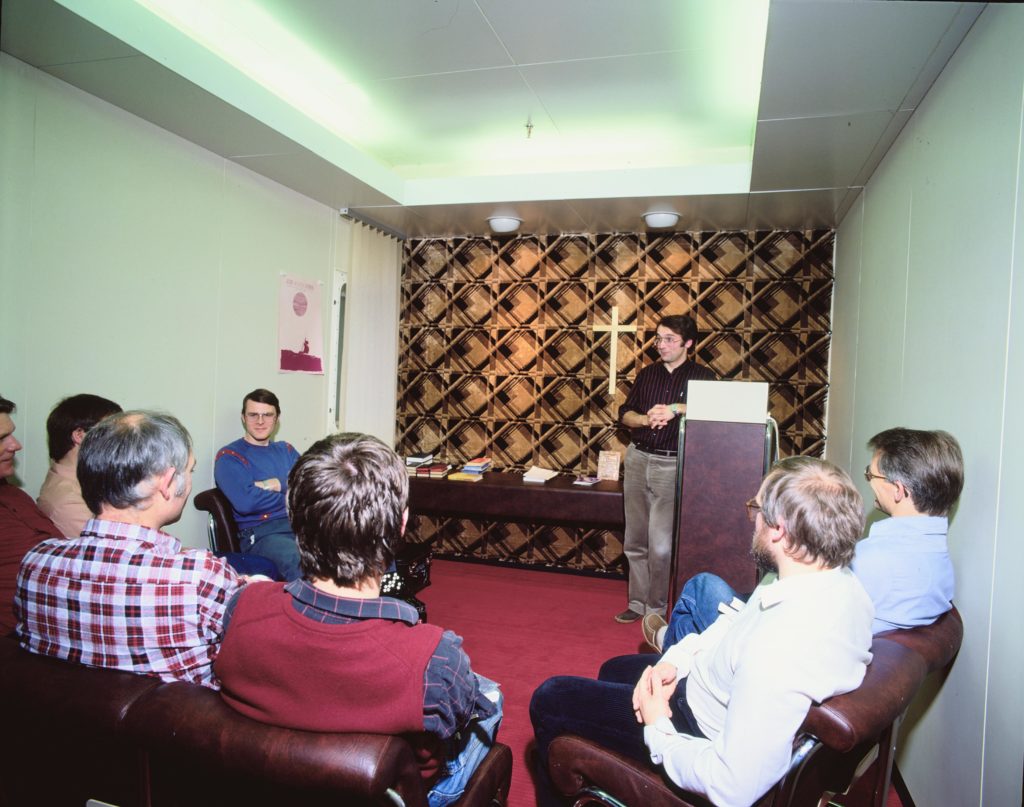 The Ekofisk community has its own chaplain, whose day-to-day work consists largely of meeting people on the field round and about in their workplaces.
This cleric travels systematically around all the installations, and has many duties to attend to – including social work, family and bereavement counselling, meetings and services.
The latter are particularly important on the main religious feast days. Meetings with devotions and conversations are held regularly in the chapel on Ekofisk 2/4 H.
Last, but not least, the chaplain forms part of the community on the platforms. Many Norwegian offshore workers who come from the merchant marine are accustomed to Norway's system of ministers to seafarers and feel the chaplain forms part of the workplace.