Concepts for platform removal
The time is approaching when many of Norway's offshore fields shut down, and removing large steel structures could become an important business for Norwegian fabricators.
Interest in providing efficient and innovative solutions for such work was already high as early as the planning stage for the first Greater Ekofisk installations to be shut down and removed.
The most relevant of such improved concepts was considered the "single-lift" method, whereby the whole platform topsides would be raised in one go and transferred to land.
ConocoPhillips awarded development contracts to a total of seven companies in 2002 for designing equipment and vessels capable of performing such an assignment.
MPU Heavy Lifter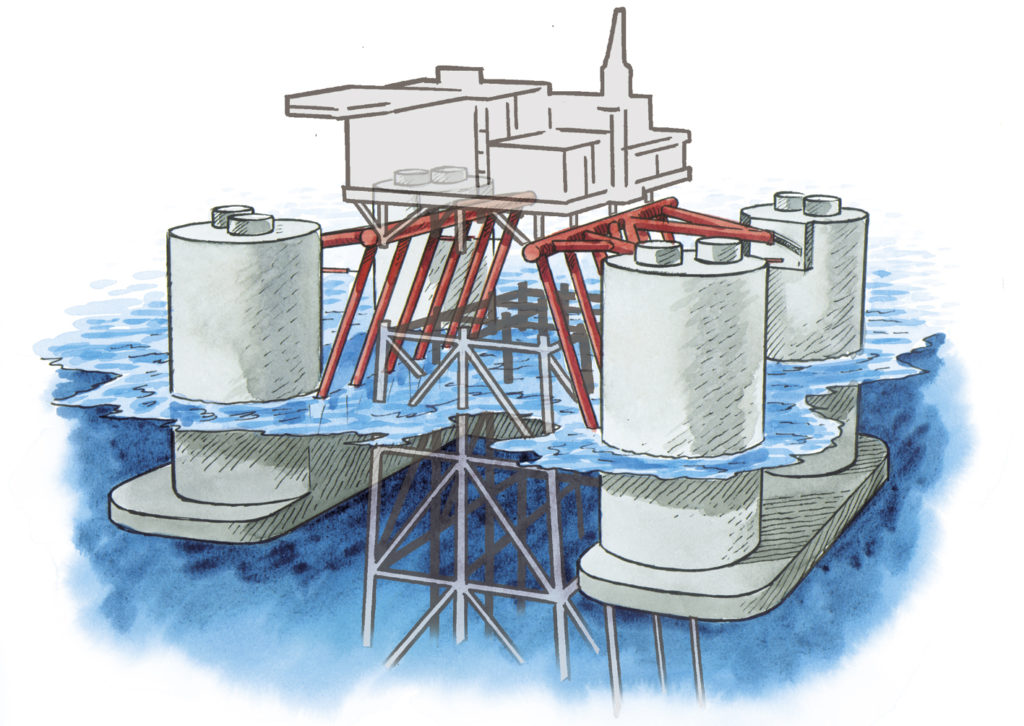 This vessel is conceived as a U-shaped semi-submersible able to remove and install a platform's topside and steel jacket (support structure).
Originally developed by Dr Techn Olav Olsen AS, it was intended to have a reinforced concrete hull and steel arms for weight transfer.
A characteristic feature of this concept was the eight special tanks, two in each concrete support column, which could be emptied rapidly.
The MPU Heavy Lifter attracted some interest, but a lack of funding as a result of the 2008 financial crisis meant it was never realised.[REMOVE]Fotnote: Telephone interview with Tor Ole Olsen at Dr Techn Olav Olsen AS.
Offshore Shuttle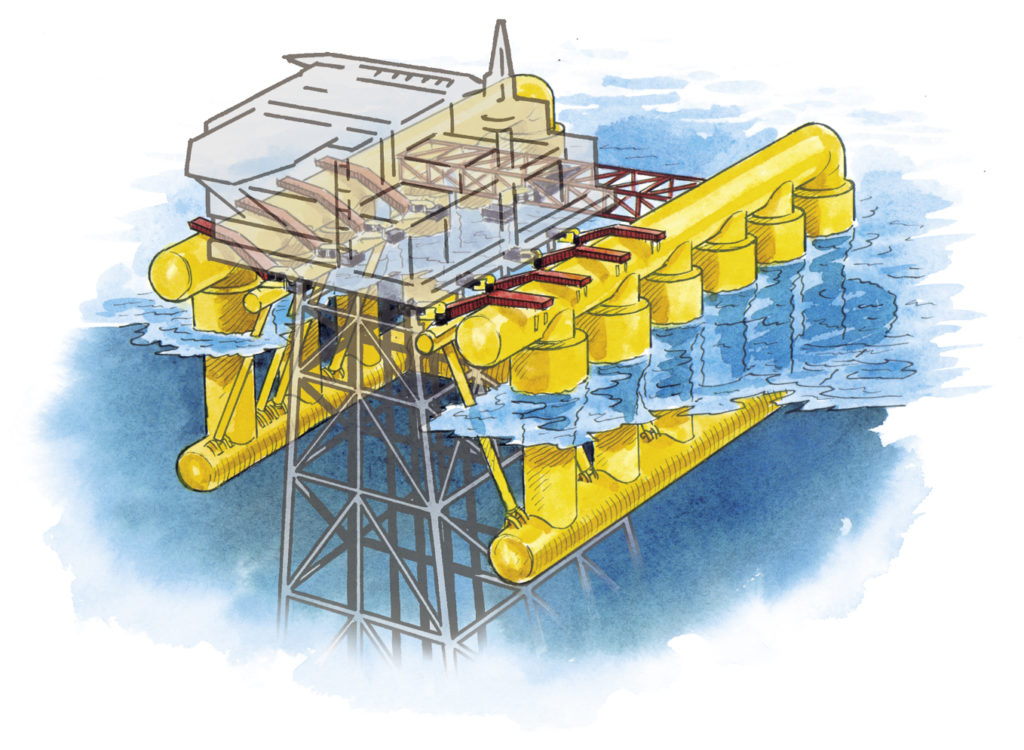 The Offshore Shuttle utilised a semi-submersible hull, and was unconventional in the sense that it would be constructed from large steel tubular sections.
These units are divided into watertight compartments which improve flexibility when ballasting up or down. The vessel would do various jobs for lifting and transporting heavy structures.
Versatruss
This concept is based on a catamaran barge. Booms are installed centrally, with the topsides raised by winches on the twin hulls pulling against each other. A special frame is also provided for lifting the jacket.
This was the only concept with proven feasibility at the time of the study, having already been used on similar projects in the Gulf of Mexico and Venezuela.
The Versatruss company has changed its name to Versabar, and is still active in the Gulf with structures which are more advanced but have reduced lifting capacity.
GM Lift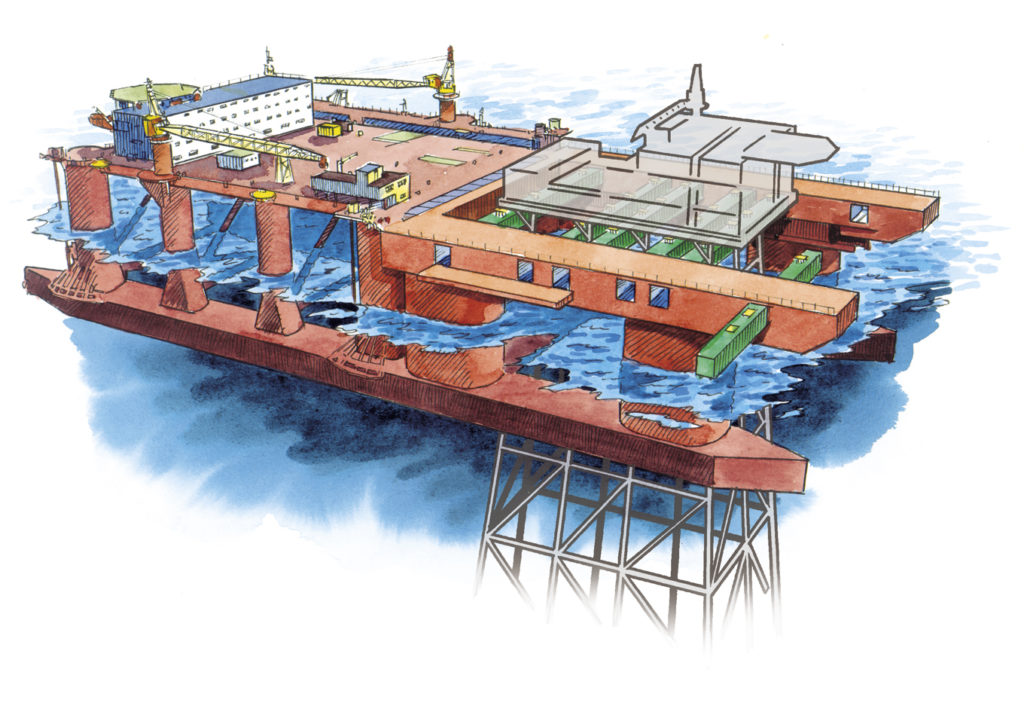 This proposal is based on linking two Aker H-3 semi-submersible drilling rigs with a slightly modified section attached as the lifting component. The idea came from Global Maritime AS.
SeaFork One
Known as Master Mind in an earlier version, this solution was planned as a semi-submersible multifunctional vessel with a "forklift truck" configuration.
Developed by Master Mariner AS, one of its most distinctive features was the combination of steel tethers with suction anchors to control vertical motion.
Twin Marine Lifter
Two barges are linked in a catamaran configuration with this concept. The lifting arms function on the barbell principle, and each of them rotated around a support in the centre of its barge.
Each arm is equipped with a buoyancy tank between barge and platform and a ballast tank on the outside. The idea is to generate lift by deballasting the buoyancy tanks while filling the ballast tanks with water.[REMOVE]Fotnote: ConocoPhillips, Epoke, Informasjon om sluttdeponering av Ekofisk I, no 12, October 2002.
Pieter Schelte
This solution is the only one to have become a reality. It involves a catamaran unit created by joining two big tankers – which were sister ships – from midships toward the stern.
That produced the largest of all the proposed vessels, and was designed with an eye to tough weather conditions so that it could operate globally.
However, many years passed before the concept was realised – by when it had been renamed Pioneering Spirit. Its first job was removal the Yme 2 platform off Norway in the autumn of 2016.[REMOVE]Fotnote: Teknisk Ukeblad, "Pioneering Spirit har løftet 44.000 tonn. Snart er den klar for å fjerne Yme-plattformen", 5 August 2016.
Traditional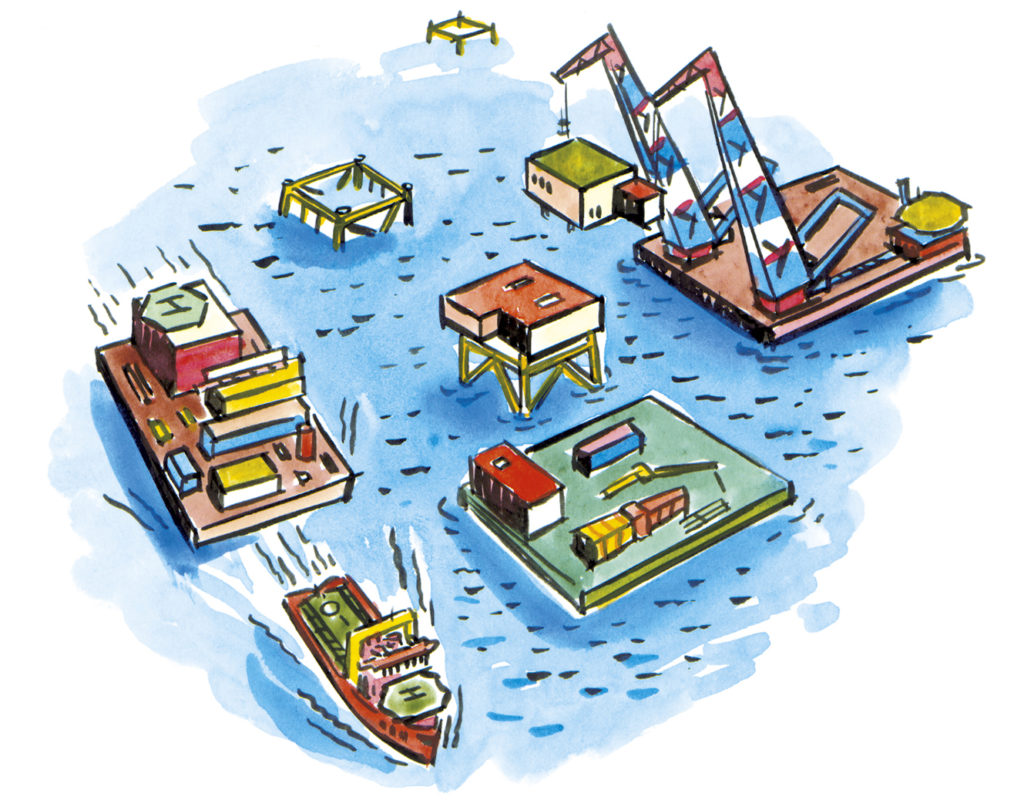 A traditional lifting method was recommended for the steel jackets on Ekofisk, with these structures removed in one or more sections depending on steel weight or the crane ship's capacity.
However, scope for ingenious solutions also existed and was addressed in a study supported by several oil companies and Britain's Department of Trade and Industry (DTI).
This investigated whether the work could be reduced with the aid of Archimedes' principle by using intelligent buoyancy tanks, allowing a whole platform to be towed away for scraping.
Each tank had an outer shell in fibreglass which was 16 metres long and 2.5 metres in diameter. A flexible divider created two internal spaces – one for water and the other for air. With all the water pumped out, a tank provided 60 tonnes of buoyancy.[REMOVE]Fotnote: Phillips Epoke, Informasjon om sluttdeponering av Ekofisk I, no 9, November 2000.
The illustration shows how the tanks were intended to be attached to the jacket.
ConocoPhillips nevertheless chose a traditional solution for all the platforms to be dismantled in 2008-15, using Heerema's heavy lift vessels to remove the topsides in large sections.