Airborne ash stops flights
Advanced reservoir monitoring in place
The control centre at Tananger outside Stavanger initiated water injection from the Ekofisk 2/4 VA (Victor Alpha) subsea installation on 10 May 2010.
Installed summer 2009
Inaugharation 10. May 2010
Also called "Victor Alpha"
Bente Nyland, director general of the Norwegian Petroleum Directorate, performed the official inauguration of this installation – the first on Ekofisk to be operated from land.
This was also the first time a subsea water-injection facility had been positioned on the field, with a high-speed fibreoptic umbilical for power and data transfer plus service lines.
That link ran to the Ekofisk 2/4 M platform, where communication was routed on to Tananger in order to support operation from land.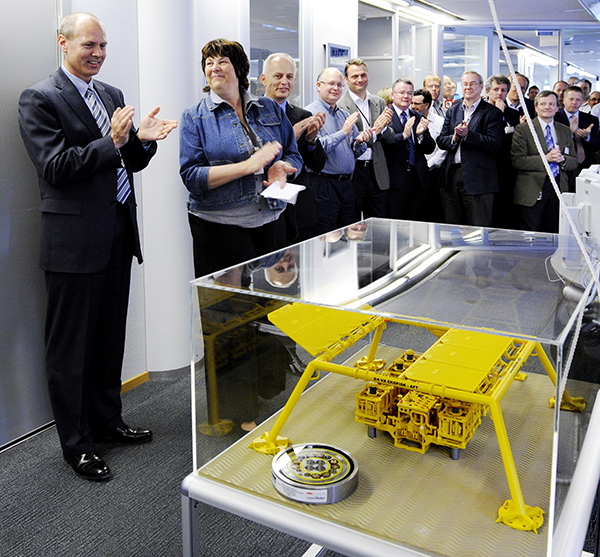 FMC Technologies was responsible for supplying this subsea injection solution under a five-year contract secured from ConocoPhillips Scandinavia in 2008.
Worth some NOK 600 million, the delivery covered subsea equipment and services for water injection on Ekofisk, with options for future deliveries.[REMOVE]Fotnote: NTB, "FMC tildelt kontrakt på 600 millioner på Ekofisk", 1 July 2008.
Injection water for 2/4 VA is supplied from the Ekofisk 2/4 K platform and piped for 4.1 kilometres before being injected under high pressure at the wellhead, just over 70 metres below sea level.[REMOVE]Fotnote: Pionér, no 3, "Ekofisk 2/4 VA drives fra Tananger", 2010.
This development replaced the Ekofisk 2/4 W water injection platform, which stood at the southern area of the Ekofisk Complex but was shut down in 2009 after being struck by a ship. An alternative was therefore needed quickly.[REMOVE]Fotnote: Norwegian Petroleum Directorate's fact pages on Ekofisk. Download 25 June 2019. https://npdfactpages.npd.no/factpages/Default.aspx?culture=nb-no&nav1=field&nav2=PageView|All&nav3=43506
Read more: Waterinjection in the Ekofisk-area
Airborne ash stops flights
Advanced reservoir monitoring in place