Cessation plan for Ekofisk I approved
Plans to document Ekofisk
Eldfisk 2/7 E water injection operational
The Eldfisk 2/7 E platform became operational on 31 January 2000 as part of the waterflooding project at the southern end of the Greater Ekofisk Area.
Plans called for oil recovery from Eldfisk to be improved by 177 million barrels of oil, and for large sums to be saved by replacing water supplies from the Ensco 100 rig on Ekofisk.[REMOVE]Fotnote: Ekofisknytt, no 21, 1996.Waterflooding on Ekofisk had been assessed repeatedly since the early 1980s. A 1995 report found that this was not financially attractive for the licensees, and discussions with the ministry on possible changes to operating parameters were also unsuccessful. 
The decision was nevertheless taken in the autumn of 1996 to review the project again on the basis of changes to reservoir conditions. Drilling and development costs were also moving in the right direction. [REMOVE]Fotnote: Ekofisknytt, no 8, 1997.
Government approval was secured in December 1997 for a project which included 2/7 E as an unmanned platform. This would have a water injection capacity of about 100 000 standard cubic metres per day as well as the capability to inject gas. The whole project had a price tag of more than NOK 6 billion, and consisted roughly speaking of the new platform, modification of existing installations, pipelines and drilling 27 new wells.[REMOVE]Fotnote: Ekofisknytt, no 13, 1999. In addition to water for "local" use on Eldfisk, 2/7 E would also deliver about half its capacity to Ekofisk 2/4 K 25 kilometres to the north.  This water supply made it possible to dispense with the Ensco 100 rig, which provided annual savings of more than NOK 300 million.[REMOVE]Fotnote: Ekofisknytt, no 19, 1999. Four large turbines of a completely new type were installed on 2/7 E and powered by gas from Eldfisk. They drove the high-pressure pumps to bring injection water up 5 000 pounds per square inch (psi). 
"This is a very challenging project," explained Raymond Eldridge, who was responsible in 2000 for starting up the technical and environment-friendly equipment of 2/7 E. "We've used new technology on the platform," he explained. "This hasn't been applied in the North Sea before."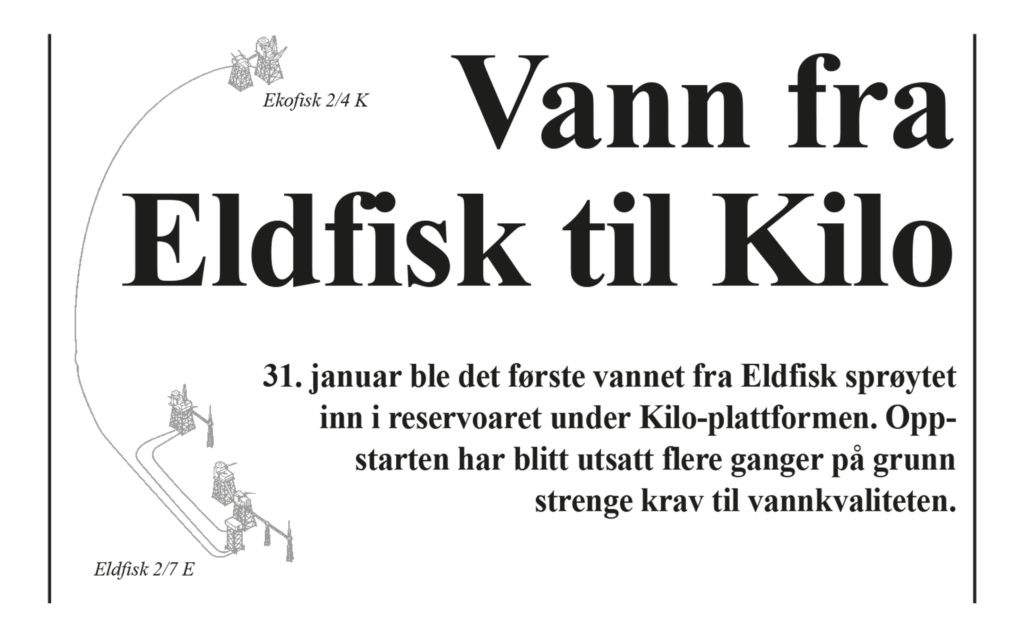 Electricity was generated from the hot turbine exhaust gas. The new generator and turbine types on 2/7 E represented a pioneering and very environment-friendly solution. With a capacity of 10 megawatts, this combined-cycle installation became operational on 10 March 2000. Steam at a temperature of about 430°C was conducted to a turbine running a generator. That reduced CO2 emissions by some 40 000 tonnes per year, and also cut nitrogen oxides released by almost 80 per cent in the early years, from 3 500 annual tonnes to just 500.[REMOVE]Fotnote: Ekofisknytt, no 2, 2000.The first water from Eldfisk was injected into the Ekofisk reservoir under the 2/4 K platform on 31 January 2000. This start-up date had been postponed several times because of strict standards for water quality. 
Eldfisk 2/7 E has a production capacity for treated water of 670 000 barrels per day. Roughly half is piped the 25 kilometres to 2/4 K for injection under a pressure of almost 5 000psi. This waterflooding helps to improve oil recovery as well as curbing the rate of seabed subsidence.  
The project also carried out an extensive cleaning job to improve the quality of the injection water and thereby avoid bacteria which might damage the reservoir.[REMOVE]Fotnote: Ekofisknytt, no 2, "Vann fra Eldfisk til Kilo", 2000. "We must make sure that the water meets top standards," said project manager Olav Henriksen when the development began. "If it contains bacteria, these can produce hydrogen sulphide over time and thereby pollute oil and gas in the field."
Cessation plan for Ekofisk I approved
Plans to document Ekofisk