Cessation plan for Ekofisk I
Eldfisk 2/7 E water injection operational
Cessation plan for Ekofisk I approved
After 20 years of production, some of the offshore installations in the Greater Ekofisk Area were starting to become redundant by the 1990s. That reflected the impact of seabed subsidence, the Ekofisk II redevelopment and the fact that satellite fields were approaching the end of their economic lives.

The Phillips group accordingly established the Ekofisk I cessation project in 1994, which began work on an impact assessment and plan for the unwanted Ekofisk I facilities.  
These were owned wholly or partly by the Phillips group, A/S Norske Shell and Norpipe Oil A/S. They covered: 
14

steel jackets

(64 000 tonn

es

)

 

o

ne concrete tank with breakwater

(290 000 + 900 000 tonn

es

)

 

15

topsides

(107 000 tonn

es

)

 

235 k

ilometres of buried pipeline

s

(91 000 tonn

es

)

 

d

rill cuttings

(

about

31 000 tonn

es

)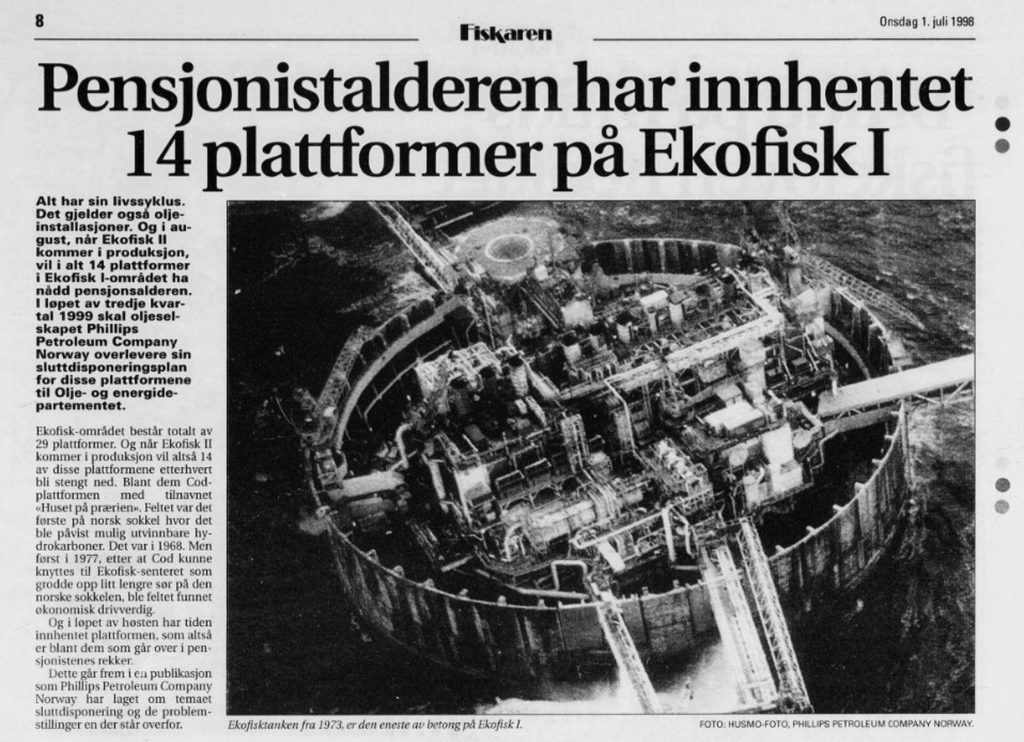 The cessation plan was submitted to the government for approval on 22 October 1999. It provided an overview of which installations were to be shut down and removed, and when this would happen. 
Measures proposed were weighed against criteria for safety, the environment and costs, and the interests of fishing, shipping and society. 
Both national and international legislation had to be taken into account by the owner companies, including Norway's Petroleum Act.  
In addition came regional conventions (such as Ospar) and international guidelines from bodies like the International Maritime Organisation (IMO). 
The Ekofisk I cessation plan was approved by the Ministry of Petroleum and Energy in 2001, and the Storting (parliament) agreed the following year that the Ekofisk tank should be left in place. 
Cessation plan for Ekofisk I
Eldfisk 2/7 E water injection operational