The maintenance term covers all the activities required to ensure that equipment functions as expected. That includes inspection, service, repair and preservation.
Platforms on Ekofisk have a permanent maintenance staff, comprising a supervisor, electricians, automation technicians, mechanics, materials administrators and roustabouts.
In addition, the Ekofisk Complex has a technical support department which provides assistance with maintenance on the outlying platforms.
Where major maintenance operations are involved, contractor companies provide scaffolders or rope access technicians, welders, painters, divers, ROV operators and the like.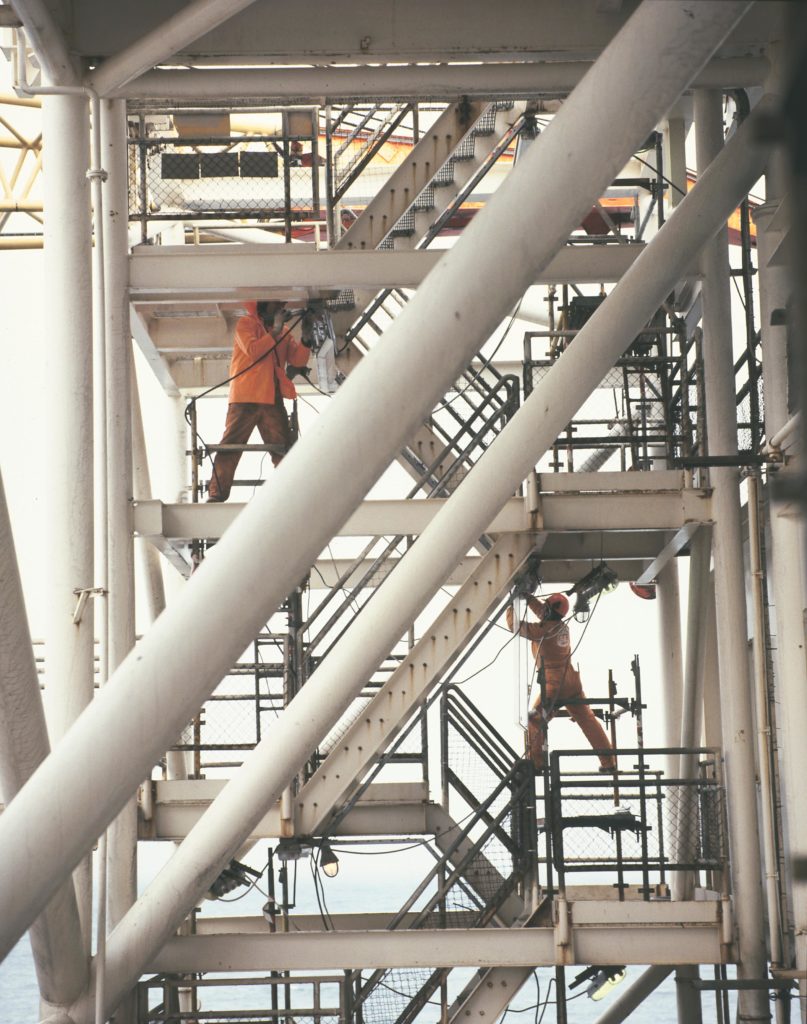 The Greater Ekofisk Area is shut down about once every three years for maintenance which would not otherwise be possible. This happens in August, when European demand for oil and gas is at its lowest and weather conditions are usually favourable.
ConocoPhillips no longer has a dedicated maintenance department, with such work directly subordinated to the operations team.
This work area assists the field organisation with planning, coordination and follow-up of offshore maintenance activities. It acts as a support team for analysis, optimisation and further development of maintenance overall.
A new programme called total productive maintenance (TPM) was introduced in 1993. Personnel would fine-comb, identify and assess the condition of everything on the installations.
Fifty-two people were assigned to TPM, half from Phillips and the rest in the form of contract personnel. They included electricians, instrumentation technicians and mechanics.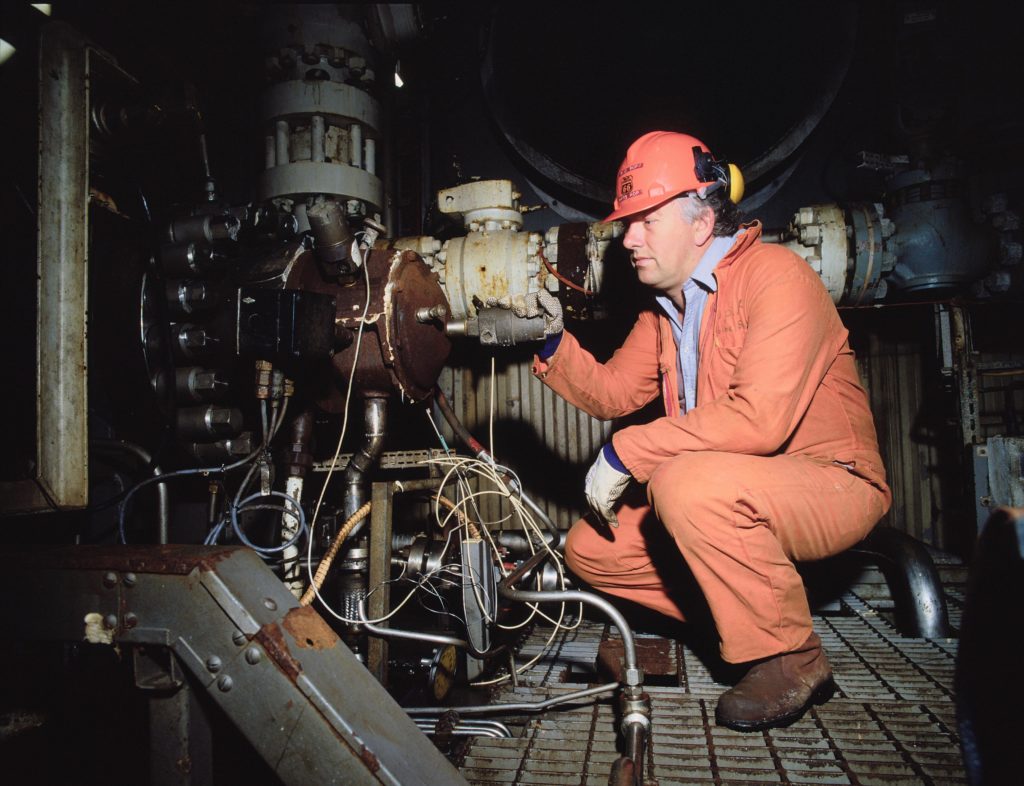 Maintenance supervisor
Every platform in the Greater Ekofisk Area has a supervisor responsible for overall control, maintenance and operation of all its technical equipment.
Motor mechanic
Motor mechanics repair and maintain mobile and stationery internal combustion motors and power trains, including generators and associated hydraulic, pneumatic and electrical systems.
Their duties have expanded over time from simple motors with a minimum of accessories to embrace advanced electronic control systems.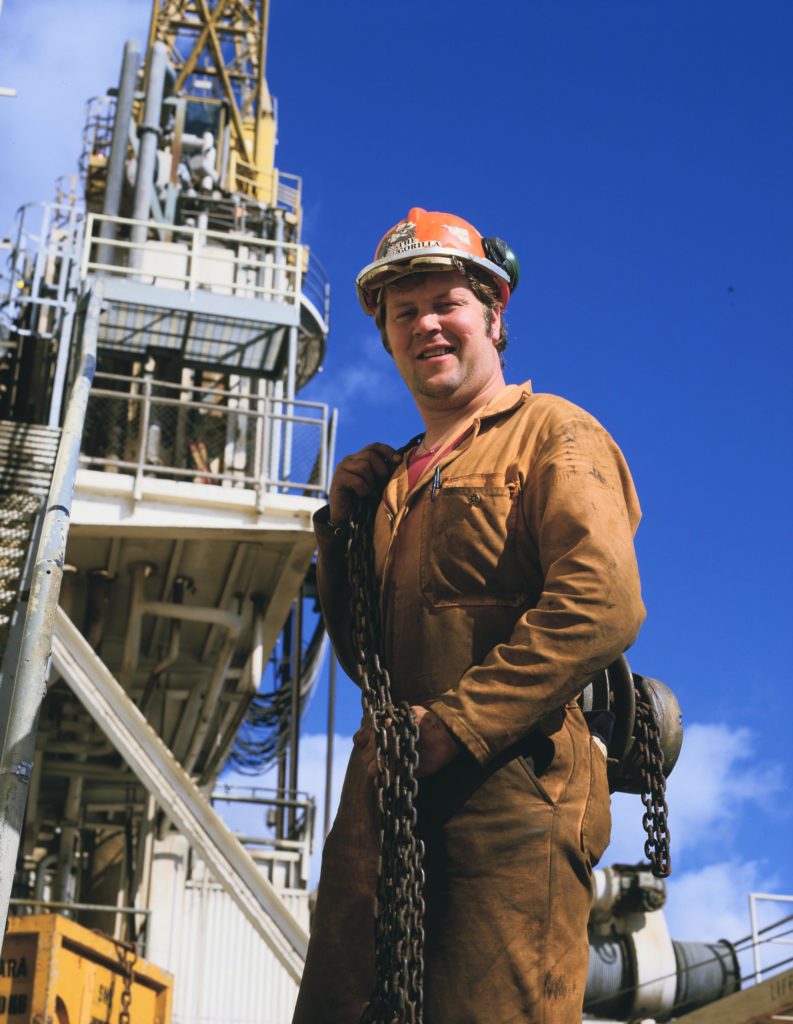 These skilled personnel face big demands to avoid the harm an internal combustion motor can cause to the environment, both locally and global. So it is very important that they can identify faults in and repair advanced engines.
The motor mechanic also has to understand the global environmental consequences of adjustment errors. They must be able to look after and deal with the hazardous waste produced by engine repair and maintenance.
These personnel must be able to apply computer technology to such tasks as generating work orders, finding the right part numbers, ordering spare parts and handling requests for these.
Motors must function in many cases during extreme weather conditions where life and health are under threat. So it is important that motor mechanics set high standards for operational safety when doing repair and maintenance.
They must be able to work independently, and to plan and execute their jobs. The ability to collaborate with others is also necessary.
Industrial mechanics
These tradespeople carry out mechanical maintenance of machinery and equipment, and work today in a number of sectors such as chemical and mechanical engineering, shipbuilding and wood processing as well oil and gas.
Their work varies from place to place and between sectors, depending on production, mechanical outfitting, division of labour and form of organisation.
They must be able to work independently and plan the execution of jobs in a way which safeguards the company's interests. The ability to collaborate in groups where appropriate is important.
Scaffolders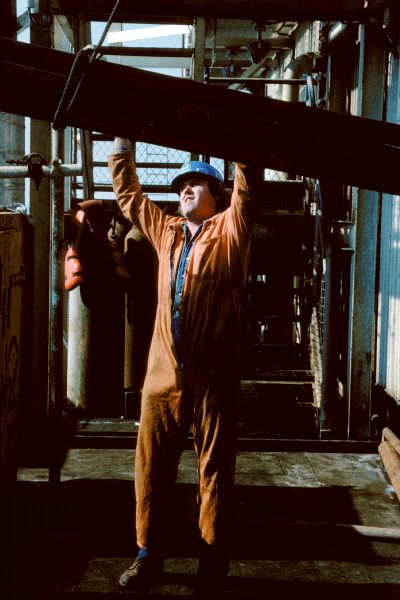 Scaffolding was earlier erected by the people who were going to use it. Today, specialist companies handle such work because developments in shipbuilding and petroleum sector mean it has become more extensive, with tougher safety and quality standards.
A scaffolder erects scaffolding so that construction work can be pursued in a safe and prudent manner and in areas which are otherwise difficult to access.
The work comprises transporting, erecting and demolishing scaffolding at construction sites both on land and offshore. Scaffolders must also be able to erect and demolish tents, gangways and railings, and carry out rigging work with the aid of lifting equipment.
They should generally have good physical strength and health, a practical orientation, technical insight, a service-minded attitude and no fear of heights.
Since scaffolding is pursued in close proximity to other tradespeople in the construction sector, the work calls for tolerance and the ability to collaborate.
Scaffolding must be done in a safe manner, so learning the appropriate regulations plays a key part in training. A safety harness must be used when working more than two metres up.
The regulations specify safety rules as well as the type and class of scaffolding, and set requirements for approval, marking, checking, calculating and documentation.
Given the knowledge and skills required of such workers, scaffold-building represents a good and secure job.
Rope access technicians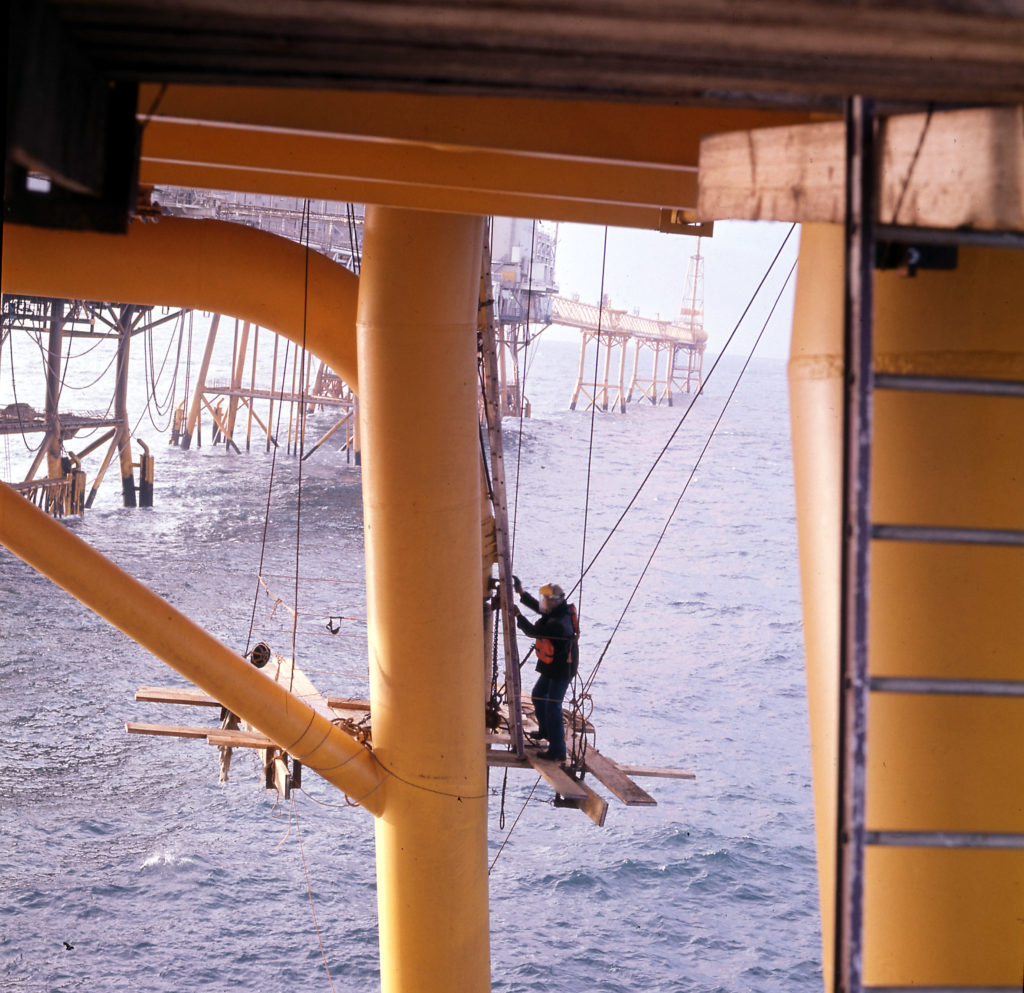 During the 1990s, scaffolding and thereby scaffolders became replaced more and more by climbers who had specialised in scaling concrete walls, bridges, towers and other human structures.
These people are mountain climbers certified to level 2. They climb alongside the operator's maintenance personnel, who still do the inspection and repairs.
The latter are not as good at climbing as the supervisors, but receive "rope access" training in addition to traditional skills such as painting and sandblasting.
Using rope access technicians rather than scaffolding makes it possible to do more inspections and repair work in less time. This method is less weather-dependent and can be used year-round.
Rope access personnel can exploit a brief period of good weather, rather than a whole team having to spend days erecting scaffolding for 30 minutes of inspection, and then demolishing it.
Electricians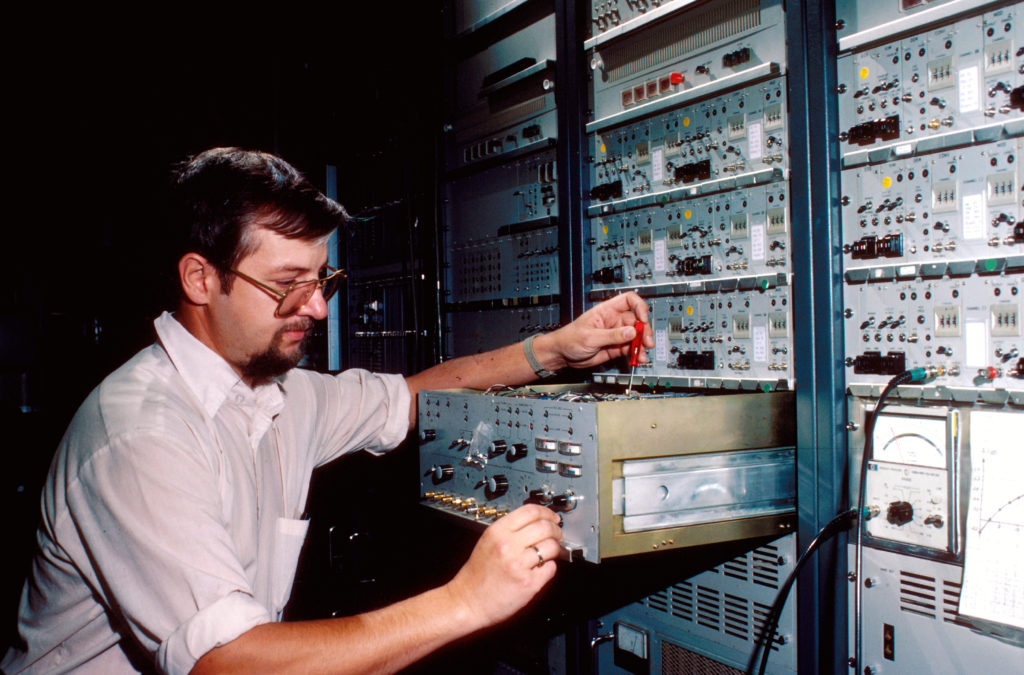 Working with electricity is hazardous and therefore calls for accuracy and good system understanding. Legislation and regulations impose careful controls, and electricians must accordingly observe safety routines intended to avoid accidents.
Training in this discipline places great emphasis on knowing legal safety requirements. Each job is conducted on the basis of documentation and regulations. An electrician must have good colour recognition to be able to use relevant codes and markings.
They work on various types of energised systems in buildings large and small, in industrial plants and on rigs and vessels. Their workplace can range from one-person companies to big groups.
Norway belongs to a number of international organisations which set norms for work with electricity. Norwegian regulations are drawn up on the basis of decisions by these bodies.
That work is done by the Norwegian Electrotechnical Committee, the Norwegian Maritime Authority and DNV GL. The Norwegian Directorate for Product and Electrical Safety conducts checks based on the regulations for electricians.
NDT inspectors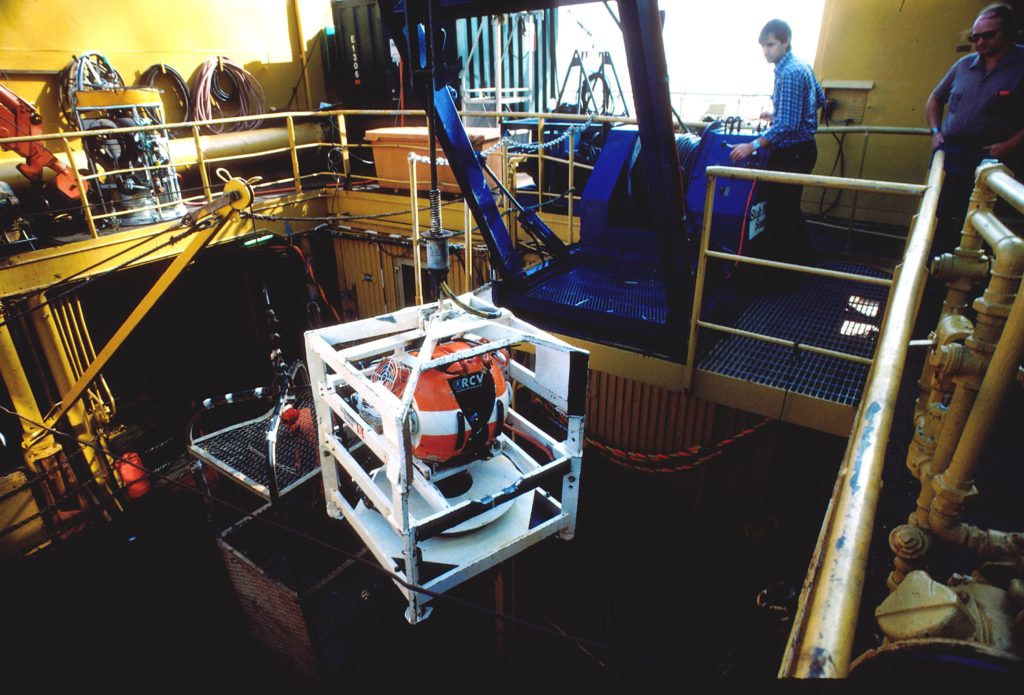 Non-destructive testing (NDT) and non-destructive material testing are utilised for structural checks by the offshore inspection department. They are applied to piping systems, pressure vessels and structures above water.
Such inspections are carried out partly to check weld quality and partly to identify corrosion damage arising during operation. They are done above water by dedicated personnel in cooperation with scaffolders or rope access technicians.
Structural inspection under water utilises ROVs controlled by contract personnel. NDT is used for fault-seeking in materials and can utilise various methods: magnetic power (MT), penetrant (PT), ultrasonic (UT), eddy current (ET) or radiography (RT).
Before 1987, this type of material testing was carried out on Ekofisk by classification society Det Norske Veritas (now DNV GL). A dedicated group for structural inspection was eventually built up at ConocoPhillips.
Such specialist inspectors have a versatile and varied occupation, which calls for a high degree of accuracy and independence.
Welders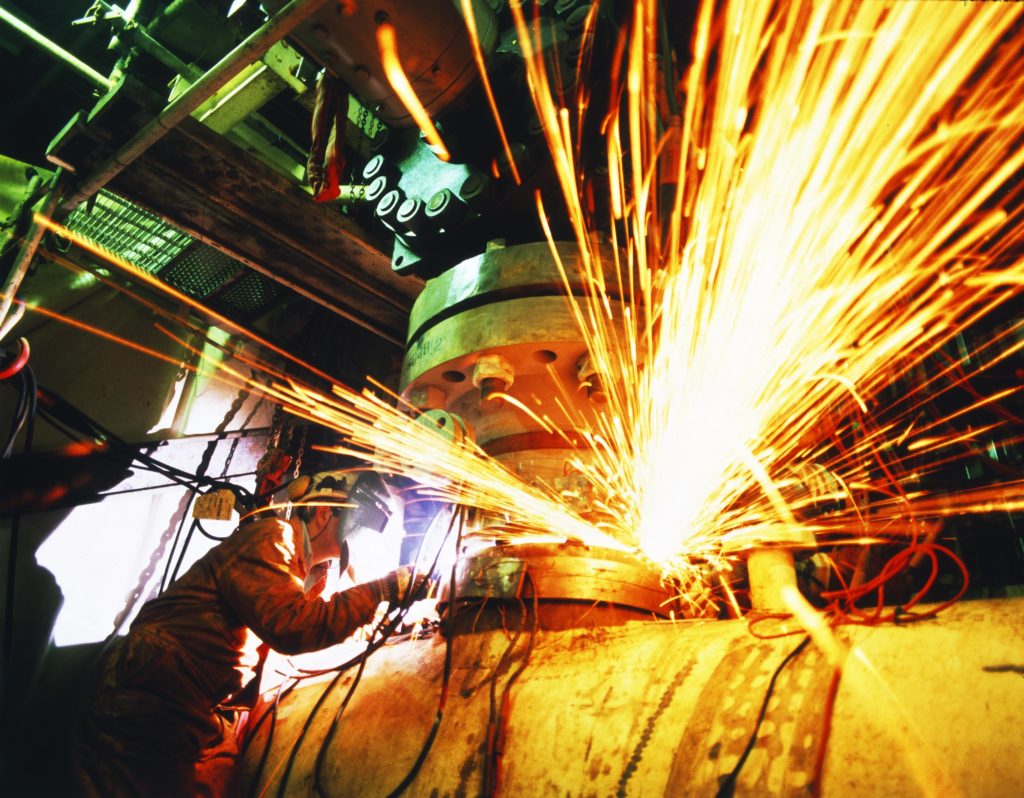 ConocoPhillips has no welders of its own today. Such services are provided by contractors who carry out modification work when new components and equipment are to be installed.
Once the inspectors have identified fractures or cracking in an offshore structure, the welders are brought in. They work on the seabed, along pipelines and on platform legs.
Such assignments used to be done exclusively by divers, but the bulk of them are carried out today by ROVs.
Welding also takes place high up the platforms – at tip of the flare stack, for example. Here, welders get help from either scaffolding or rope access technicians.
Maintenance shutdowns on Ekofisk usually mean extra work for welders and the other members of the team dedicated to such activities. This is when operations which cannot be done while the platforms are on stream get carried out.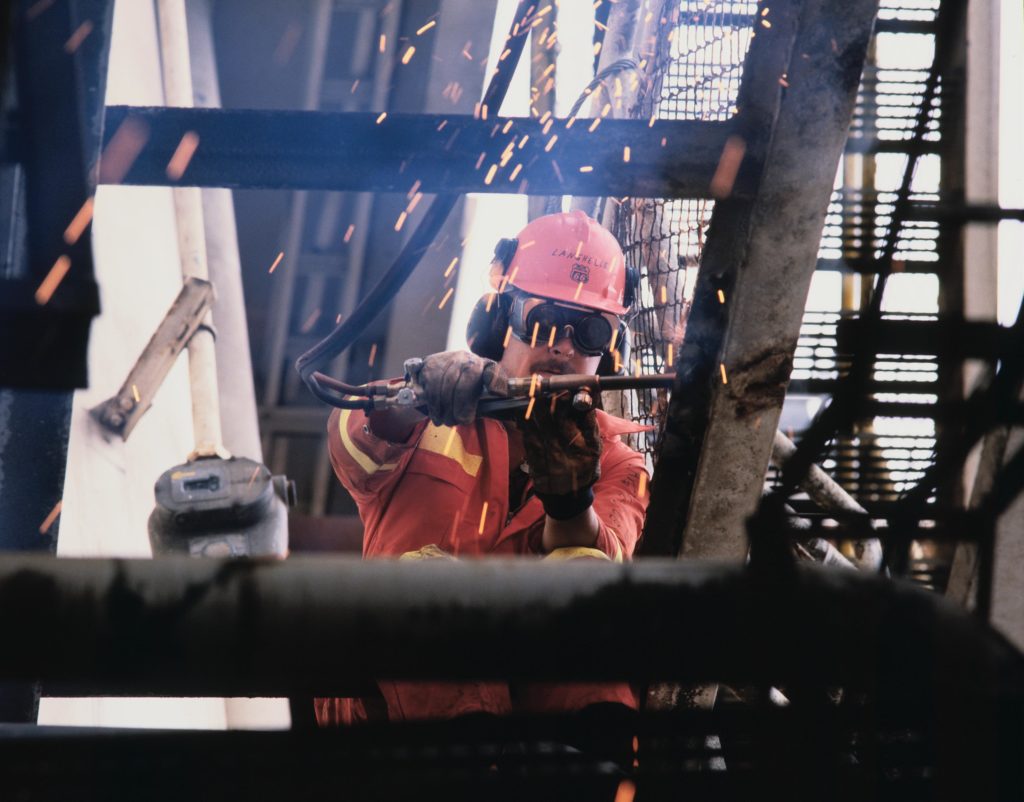 Trained welders are qualified to weld metallic structures using various techniques and positions prescribed in specifications, procedures, drawings and standard sheets.
Jobs must be done under the prevailing conditions both indoors and indoors and out, in the required positions and with the methods and procedures prescribed.
Welders must be able to work independently, plan the execution of jobs in a way which safeguards the company's interests, and collaborate in groups.
Welders work today in a number of sectors, such as chemical and mechanical engineering, petroleum, shipbuilding and wood processing.
Their work varies from place to place and between sectors, depending on production, mechanical outfitting, division of labour and form of organisation.
Roustabouts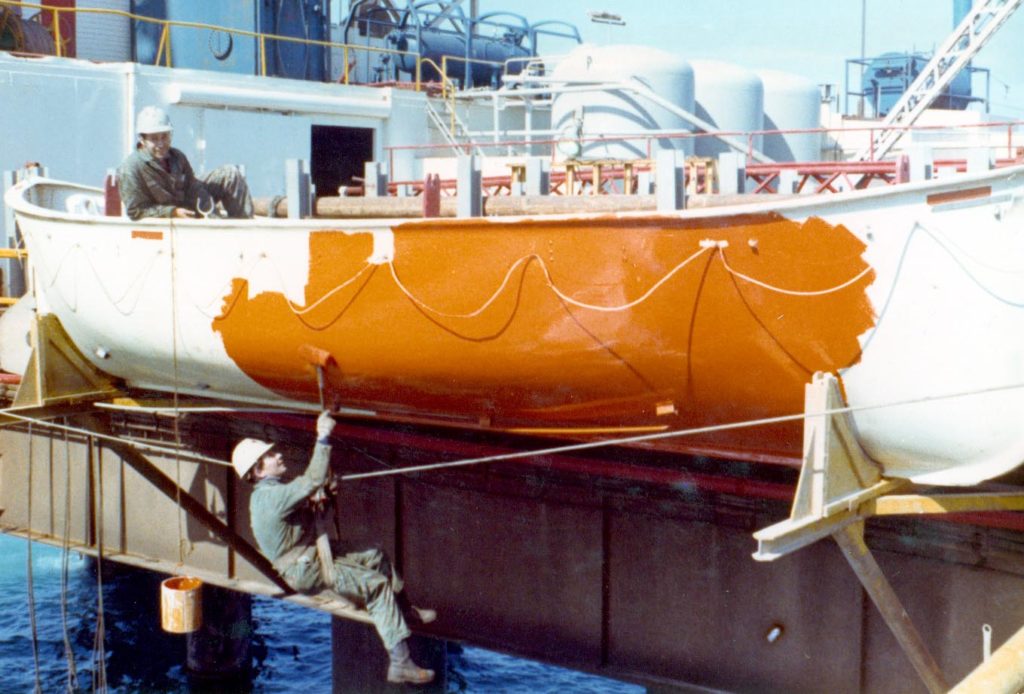 Several types of roustabouts are employed offshore. In the maintenance department, their duties can include helping to carry out operational and maintenance jobs.
Such work may embrace rust chipping, scraping, painting, washing bulkheads and decks, water jetting, and lubricating crane components, lifeboat systems and so forth.
Materials administrators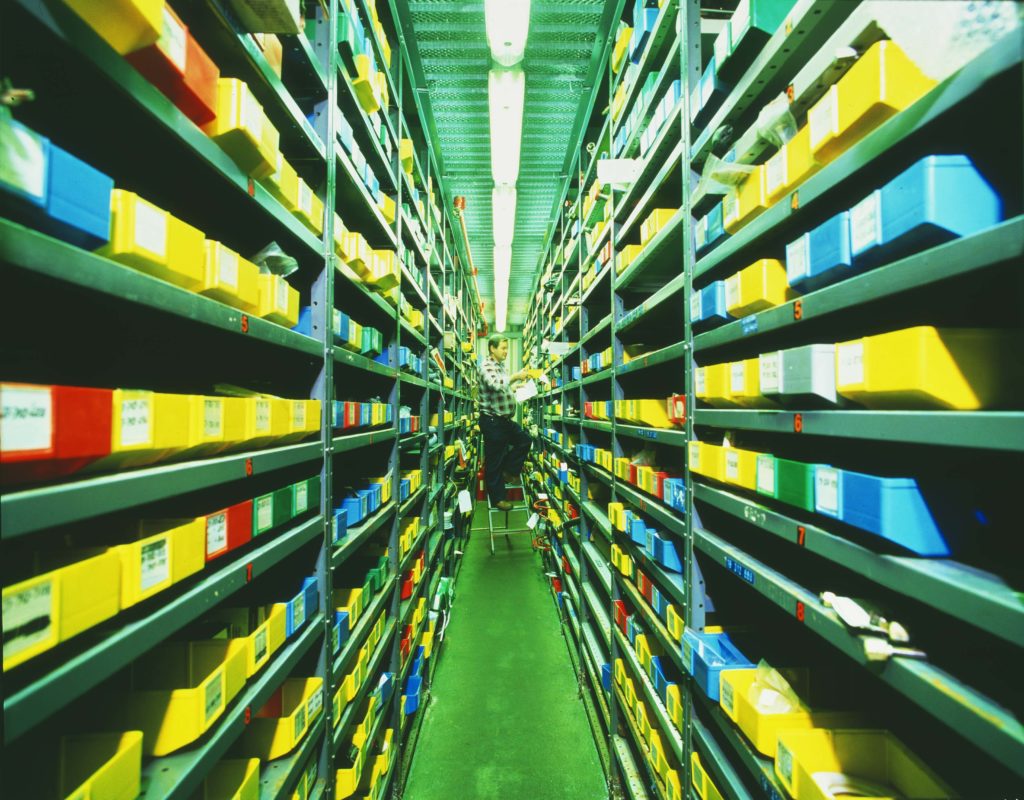 The central warehouse on Ekofisk 2/4 P functioned up to 1998, when it was transferred to the 2/4 J platform. Spare parts for the whole Greater Ekofisk Area are dispensed from there.
Of necessity, the materials administrator uses a computer system to maintain an overview of stocks at any given time and to order the parts which might be required.
Materials management covers a wide range of sectors, including wood processing, metals, mechanical and chemical engineering and food processing. In all these areas and more, this discipline is crucial for production.
Key jobs include goods handling, from reception and holding of raw materials to storage and despatch of finished products. Also important is transport with mobile and stationary systems.
A qualified materials administrator must have an overview of the company's total materials throughput, and will also often be involved in production both directly and through controlling raw materials and products. They must therefore be familiar with the latter as well as the company's production techniques.
Such managers must know about and have skills in materials technology and internal transport, and be able to work with procurement, sales and administration, expediting, packaging or warehouse management.
They must be able to execute all their duties independently, but also in cooperation with others. The work must be of good quality and executed in a prudent manner with regard to health, safety and the environment as well as to financial considerations.
Automation mechanics
Instrumentation technicians were upgraded around 1990 to automation technicians. A new position of automation mechanic was created to fill the gap which thereby arose between mechanics and automation technicians.
Automation mechanics install equipment in automated industrial production facilities as well as building them up and doing fault-checking, repairing and maintaining with such installations.
They work where condition variables are measured and converted to signals which are transmitted, received, analysed and assessed. That in turn forms the basis for decisions and electro-mechanical interventions.
These personnel must be able to plan their work on the basis of drawings, sketches and job descriptions, and to check that it is executed in accordance with applicable quality and safety provisions.
Furthermore, they must be able to install and maintain relevant control systems and to build up and fault-check electromagnetic controls in low-voltage facilities.
Automation mechanics are involved to a great extent in shaping technical solutions related to the automation of production processes, so inventiveness is an important requirement.
Work in this discipline calls for considerable adaptability in order to provide the services required by society at any given time.
Its practitioners therefore need the ability and willingness to enlarge and alter their expertise in order to be better fitted to meet tomorrow's demands for flexibility.
Automation mechanics must be able to work independently while also collaborating well. Most of them will serve in industrial sectors where automation is a key element.
Automation technicians
An automation technician handles assembly, service and maintenance jobs which require them to assess and solve technical operational problems in automated processes, machinery and plants.
They work in the process mechanical engineering industries as well as in companies which install, build, repair and maintain automated process systems and machinery.
This discipline is therefore multidisciplinary by nature, and calls for a good overall understanding of processes and automation systems. It also calls for considerable inventiveness.
Automation technicians maintain, fault-seek, repair, replace, install, check and adjust electronic, electrical, pneumatic and hydraulic measurement, control and regulation systems.
They work with regulation technology as well as with electrical installations where voltages range up 1 000 volts AC and 1 500 DC.
Such specialists have a special responsibility for shaping systems to take account of health, safety and the environment. Their work must comply with statutes, regulations and rules issued by the Norwegian Directorate for Product and Electrical Safety, the Norwegian Labour Inspection Authority and other regulators.
In this connection, detailed solutions must be viewed in relation to system structures in order to ensure that overall safety is maintained.
Automation technicians must collaborate with other specialists responsible for the operation and maintenance of process and production facilities.
They correct faults, optimise and help to shape the automation systems so that these correspond with user requirements.
Painters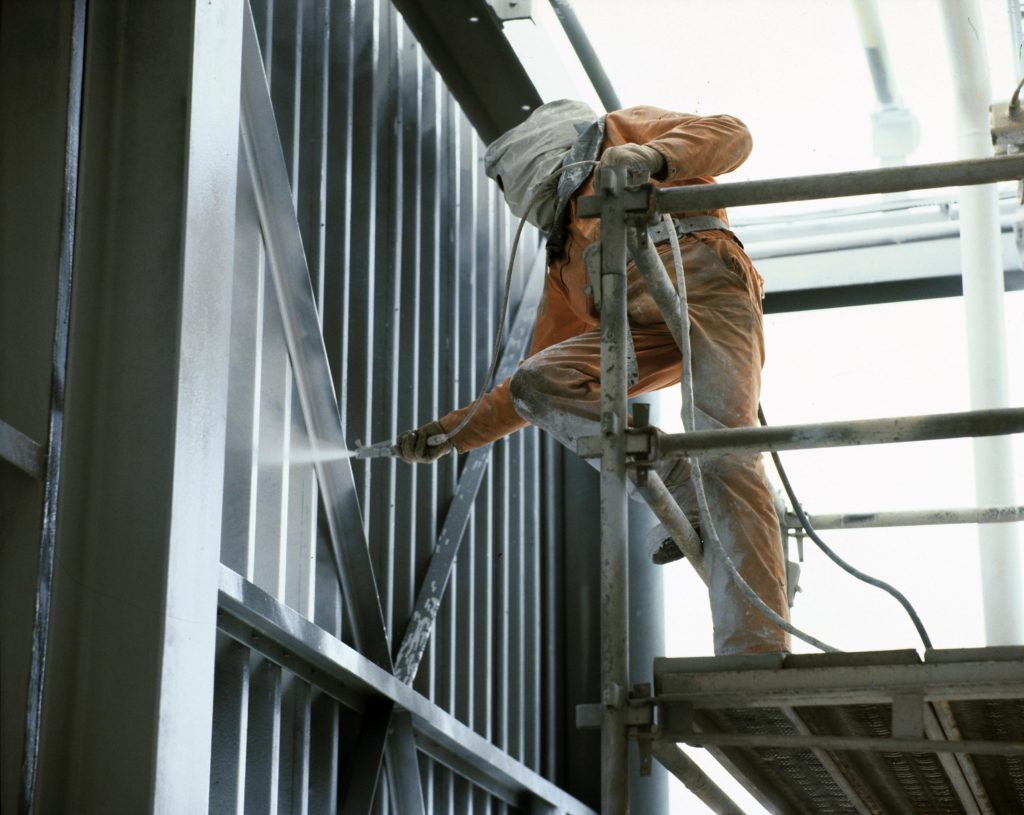 Somebody always needs to be cleaning and painting on a platform, where seawater, wind and usage cause wear and tear on structures and equipment.
To keep Ekofisk in an acceptable condition, rust must be removed, equipment sandblasted and everything painted. The painters often travel from platform to platform.
The machinery and industrial painting trade has expanded in line with manufacturing growth. Large metal structures need effective corrosion protection to avoid major repair costs and a possible threat to life and health.
Where Norway is concerned, the mechanical engineering and petroleum industries have been particularly significant for the development of this discipline. Machinery and industrial painters are trained to assess, prepare and pretreat surfaces.
Working with solvents, dust and chemicals, they have to protect themselves and take care of health, safety and the environment. The job also involves heavy lifting and is often done out-of-doors.
In Norway, this trade is particularly associated with heavy engineering and offshore operations. That includes surface treatment of power stations, tank farms, drilling rigs, ships and platforms.
These painters also rectify rust damage caused by various environmental loads such as wear, salt and damp in reinforced concrete structures. Correct surface treatment helps to protect major assets for society.
Practitioners work in close association with other trades in the building and mechanical engineering sectors. Tolerance of and respect for other disciplines are therefore important requirements for machinery and industrial painters.