New platforms – reduced emissions
Emergency helicopter landing at Sola
Official inauguration of Ekofisk II
Marit Arnstad, minister of petroleum and energy, unveiled a stone plaque outside the control room on Ekofisk 2/4 J on 15 September 1998 to mark that the Ekofisk II development was on stream.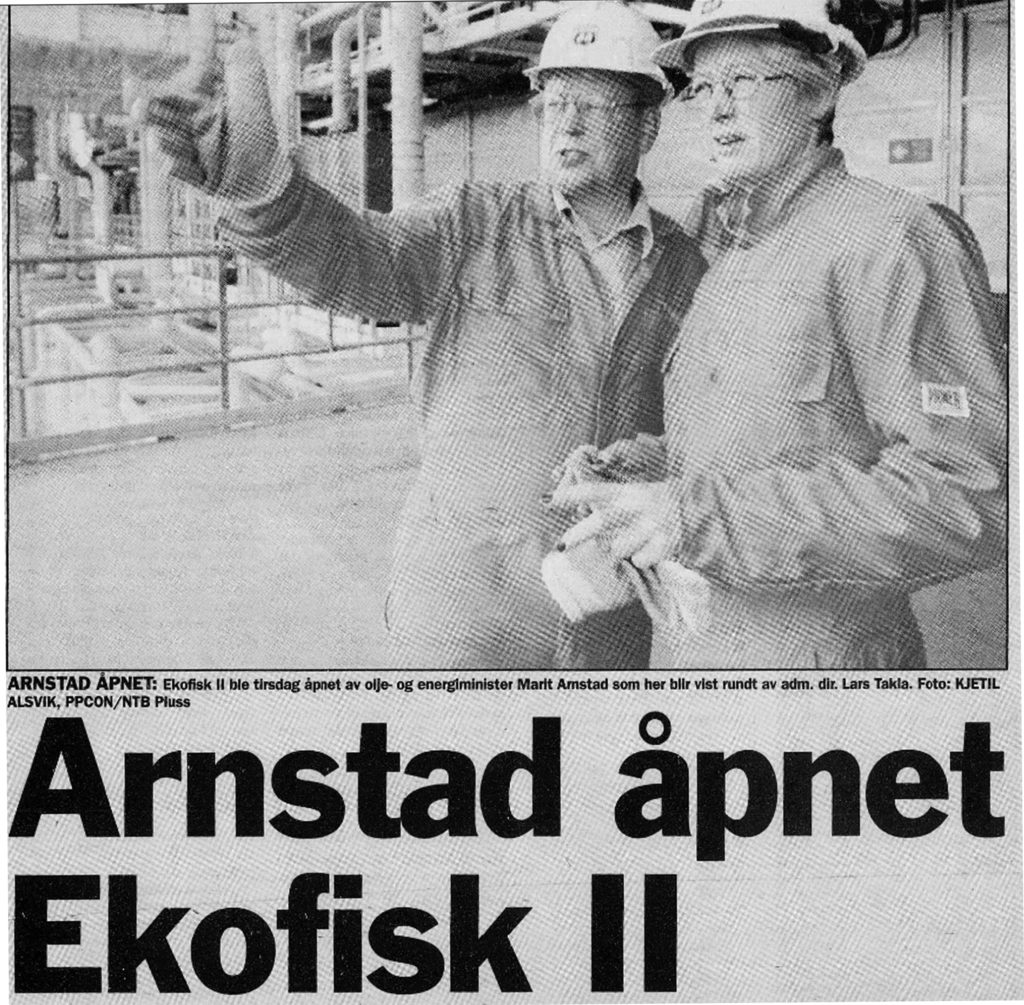 Norway's largest oil and gas field had thereby moved into its next phase with two new platforms – Ekofisk 2/4 X for drilling and the 2/4 J processing and transport installation.[REMOVE]Fotnote: Ekofisk II i mål!, no 3, "Ekofisk II er i drift", 1998; NTB, 15 September 1998.
In her speech at the inauguration, Arnstad praised Phillips for having implemented the development well in technical terms, on schedule and far below the original cost estimate.[REMOVE]Fotnote: Ekofisknytt, no 16, "Ros fra statsråden under åpningen av Ekofisk II", 1998.
The new facilities did not merely supplement existing Ekofisk installations. They replaced a number of old platforms, and outdated technology was swapped for modern solutions.
Why Ekofisk II?
The Phillips group had been aware from the late 1980s that renewal was needed on Ekofisk, for several reasons. These included natural conditions on the field.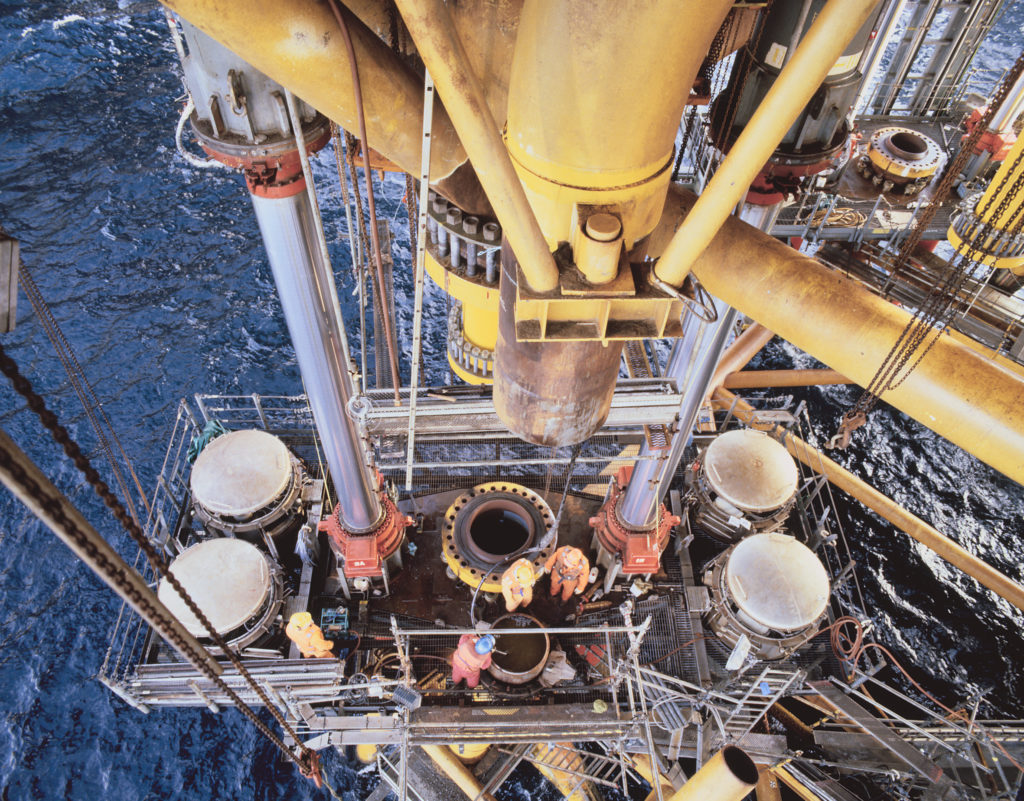 Seabed subsidence beneath the Ekofisk Complex had been identified in the 1980s, with various steps being taken in response.
The steel jackets comprising the complex were raised by inserting six-metre extensions in their legs. Read more in the article on jacking provides the solution.
Another measure was waterflooding to maintain reservoir pressure and thereby counter further subsidence while also improving recovery.
Although production from Ekofisk was rising, low oil prices combined with high operating and maintenance costs caused profitability to decline.
Phillips launched studies in the early 1990s with a view to meeting these challenges, and this process came under additional pressure from tougher government safety requirements.
These meant that the Ekofisk tank had to be modified. The Norwegian Petroleum Directorate announced in October 1992 that the tank would be shut down unless binding plans for its future were presented.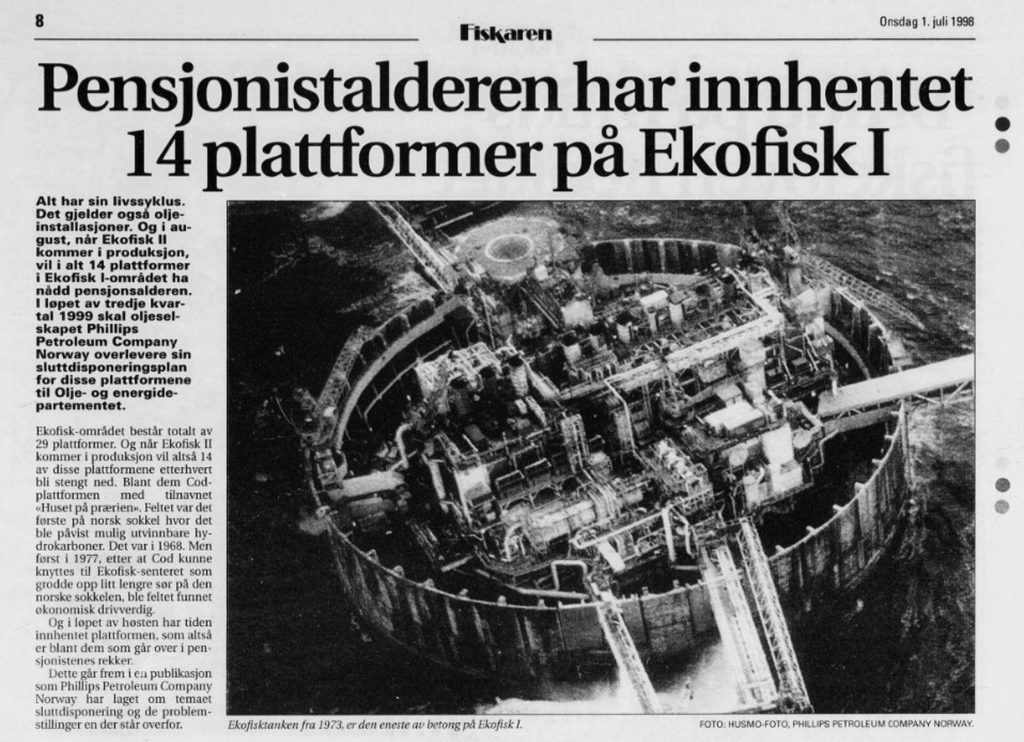 The Phillips group got to grips with that and submitted a plan for development and operation (PDO) of a new Ekofisk project in December 1993.
This outlined two alternatives, reflecting uncertainty about an extension to the production licence beyond its original expiry date of 2011.
Since oil prices were low, a third option representing a combination of the first two was also presented to the Ministry of Industry and Energy in 1994.
Following negotiations between the Phillips group and the ministry, the licence was extended by 30 years from the start of the new development – in other words, until 2028. The same extension was given for the pipelines to Teesside and Emden.
The licensees were happy that the Ekofisk II agreement also removed their obligation to pay a 10 per cent royalty on oil and natural gas liquids. That was in accordance with the Petroleum Tax Act of 1986, which waived royalty for new fields.
For its part, the government was pleased that the state's direct financial interest (SDFI) in offshore operations – managed by Petoro – secured a five per cent interest in the Ekofisk licence.[REMOVE]Fotnote: Stig Kvendseth, Norwegian Petroleum Museum Yearbook, 2001: 30-31
Ekofisk 2/4 X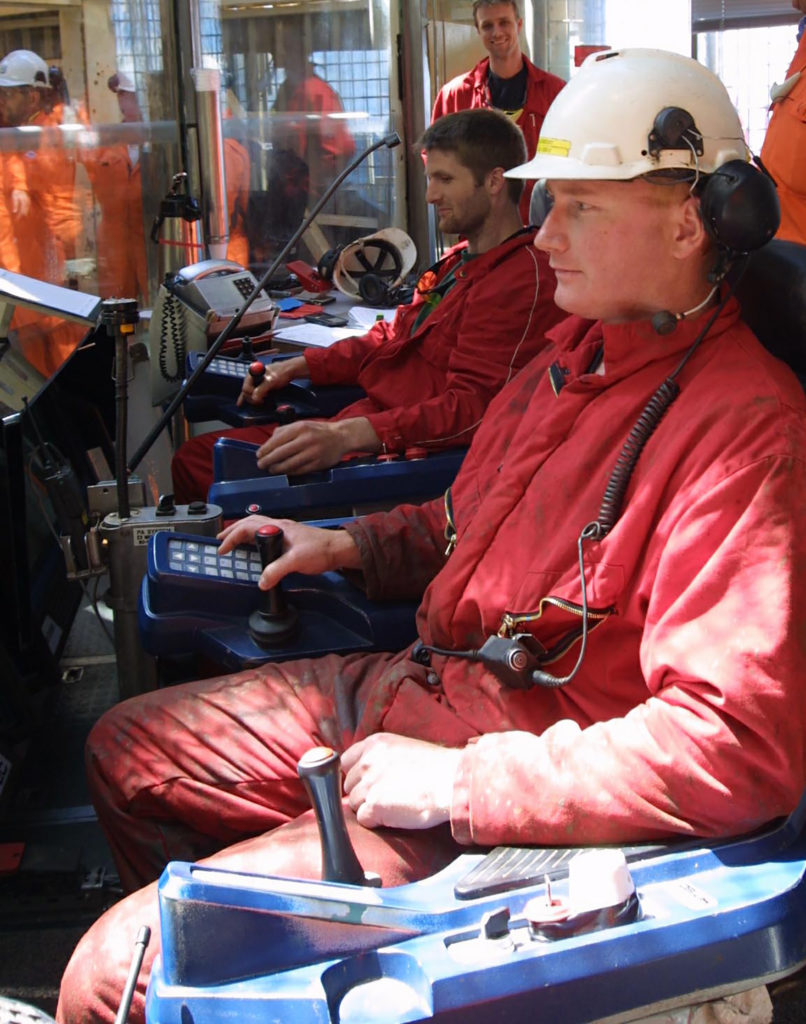 The development solution for Ekofisk II demonstrated how far technology for offshore oil operations had advanced over the 25 years from the early 1970s to the mid-1990s.
Thanks to the ability to drill horizontal and multilateral wells, one new drilling and production platform could replace three old ones. Ekofisk 2/4 X could reach the whole reservoir.
Built at Aker Verdal, the jacket for this installation was placed on the seabed by the DB 102 crane vessel on 12 August 1996. Sixteen 180-tonne piles held it firmly in position.[REMOVE]Fotnote: Ekofisk II mot målet, no 6, "Høydepunkt fra 2/4 X installasjonen", 1996: 2.
The topsides were also lifted into place by DB 102 – with drilling rig and all. Just after 1 January 1997, the platform was ready to start work on new wells.[REMOVE]Fotnote: Ekofisk II mot målet, no 1, "Ekofisk 2/4 X i produksjon", 1997: 3.
This wellhead facility transfers wellstreams from the reservoir to Ekofisk 2/4 J. Bridges to that platform and 2/4 C make it part of the Ekofisk Complex.
Ekofisk 2/4 J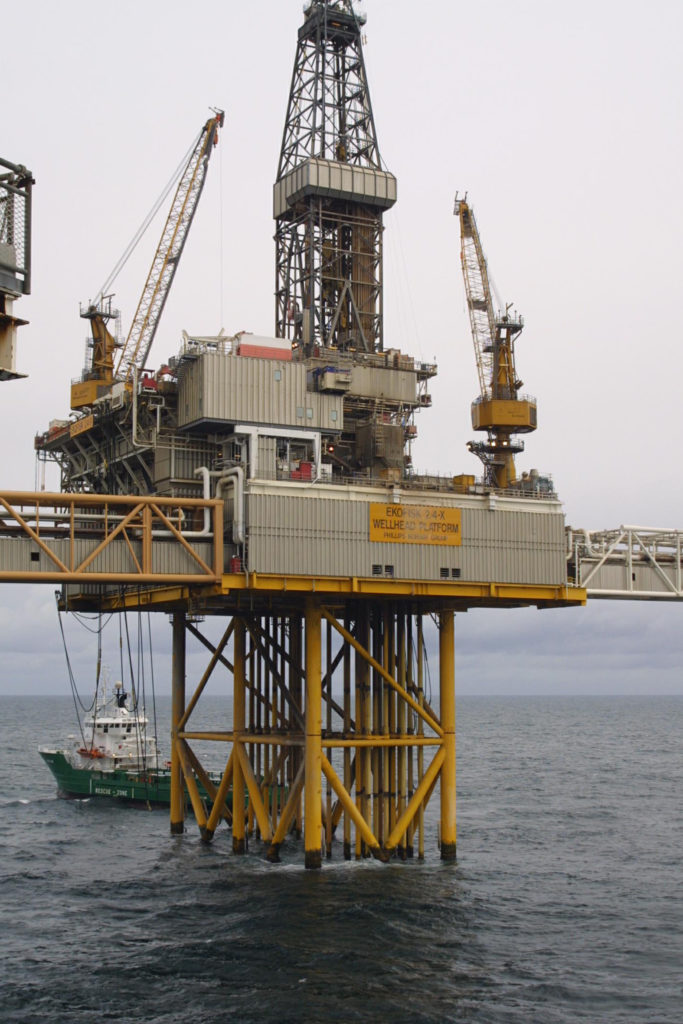 Ekofisk 2/4 J is a process and transport platform which replaced six former structures. Both it and 2/4 X were installed on "safe ground", away from the area with seabed subsidence.
Also fabricated by Aker Verdal, the 2/4 J jacket was positioned on the field in April 1997.[REMOVE]Fotnote: Ekofisk II mot målet, no 2, "Stålunderstellet trygt på havbunnen", 1997: 1. The Saipem 7000 crane vessel then lifted on seven topside modules one after another.
The last of these lifts was the flare boom on 1 August, which meant the 11th platform in the Ekofisk Complex was physically in place and hook-up, commissioning and testing could begin.[REMOVE]Fotnote: Ekofisk II mot målet, no 4, "Ekofisk 2/4 J på plass. Klart for 'hook-up'", 1997: 3.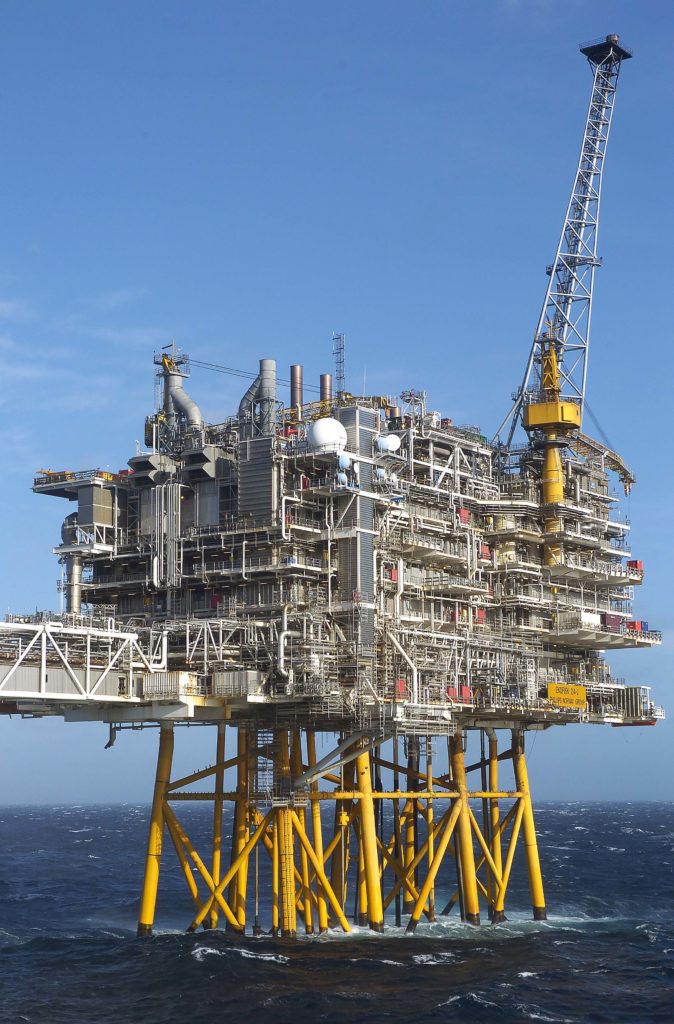 Ekofisk 2/4 J is a very modern platform, and all the process technicians who were to serve in its control room trained on a simulator at the Tananger office. This was identical to the real thing in both colours and equipment.[REMOVE]Fotnote: Ekofisk II mot målet, no 5, "Simulatortreningen er i gang", 1997: 3.
Before the platform could be connected to the export pipelines, the gas flow from Statpipe was shut down. All gas and oil exports from Ekofisk then followed.
Once that operation was completed, deliveries resumed via 2/4 J on 20 August 1998. [REMOVE]Fotnote: Ekofisk II i mål!, no 3, "Omkoblingslogg", 1998: 3
That was certainly an event worth celebrating by the minister.
Ekofisk 2/4 J has subsequently become an important hub in Norway's petroleum exports.
Some come, some go
New development also meant the end of the road for four of the outlying fields in the Greater Ekofisk Area. Connecting Cod, West Ekofisk, Albuskjell and Edda to the new Ekofisk 2/4 J field centre was not commercially viable.
In all, the Ekofisk II project resulted in the actual or planned shutdown of 14 platforms. See the separate articles on shutting down and removing installations.
That marked the start of work on a cessation plan for the redundant structures, as well as for three platforms in the Greater Ekofisk Area which had already shut down.
New platforms – reduced emissions
Emergency helicopter landing at Sola