Thirty-year gas sales deal
New generation platforms
Collaboration with Bellona
Phillips initiated a collaboration on energy issues with Bellona in 1998. That made it one of several corporate partners and sponsors of this Norwegian environmental foundation's B7 programme for cleaner energy.
Established by Fredrik Hauge in 1986, Bellona had already made its mark on Norway's environmental debate – initially through activism and attracting media attention. Hauge and the rest of the Bellona leadership now wanted to change their strategy. It would collaborate with industry to overcome challenges posed by new environmental technology and to implement better environmental and climate solutions. Bellona had become a technologically optimistic organisation, which believed that a dialogue with industry could help to shift developments in a more environment-friendly direction.
To maintain its effects, the foundation need funds or, as it argued: "The best way to pursue environmentalism is to earn money from it." That recognition played a key part when it developed its collaboration programme in the late 1990s.
The B7 name stood for "Bellona" and the seven priority areas to be covered. These were environmental rights, international collaboration, environmental management, environment and economics, environmental technology, energy, and environmental facts.
Bellona's collaboration with industry was structured in different ways, depending on what each of its partner companies required. Some wanted help to enhance their environmental expertise, while others concentrated on adopting more environment-friendly technology. A common denominator was identifying the opportunities and limitations offered by greater green awareness.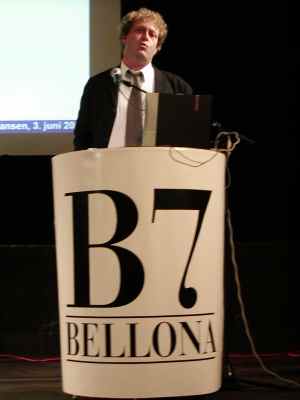 Phillips undertook to support Bellona financially for three years, and this period was later extended. For its part, the foundation would establish a reference group for energy issues. In addition, it would stage an annual B7 conference (which endured until well into the 2000s), hold an environmental congress in 2000, initiate campaigns in schools and the media, and pursue exhibitions and seminars.
Phillips also received an environmental assessment and was promoted in Bellona's activities. However, many people took a sceptical view of such close ties with industry. But Bellona stuck to its guns and maintained that, because many of the necessary solutions were energy-efficient and thereby cost-saving, industry and the environmental movement had a common interest in developing new green technology.
Thirty-year gas sales deal
New generation platforms