Oil crisis in reverse
Final rejection
A moderate gale was blowing from the north-west, with rain clouds overhead, when Broken Chain, the monument to the Alexander L Kielland disaster, was unveiled on 20 March 1986.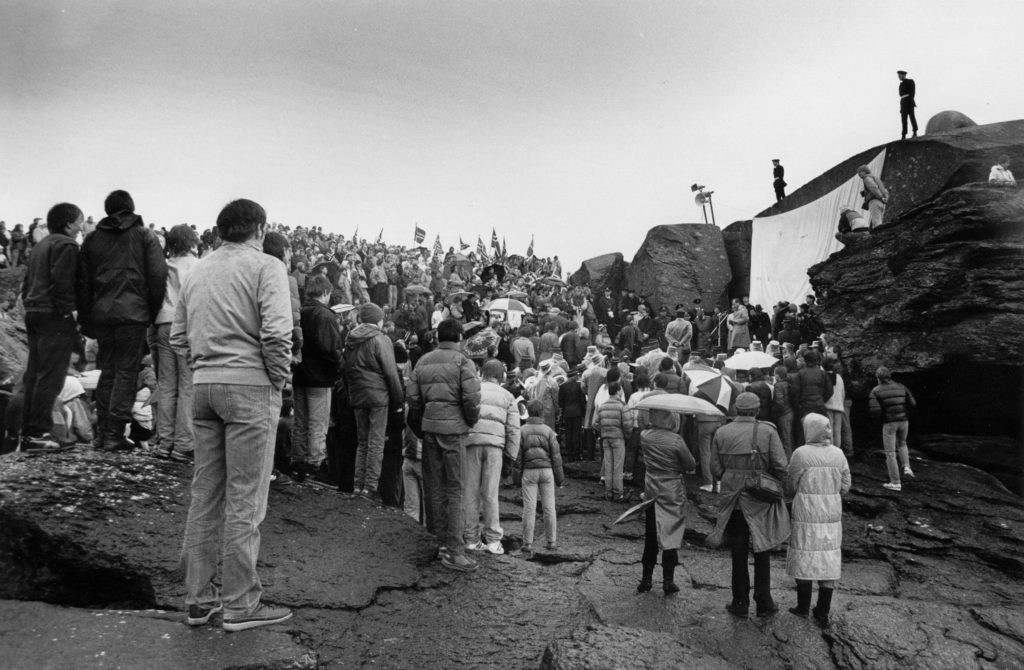 Several hundred people attended the ceremony to honour the 123 who lost their lives in this accident. They included many relatives and survivors as well as representatives for companies and organisations associated with the North Sea oil industry.
The government was represented by Kjell Magne Bondevik, then minister of education and church affairs, and a large number of people from local authorities, the church and the armed forces also attended.
Two schools had been given the day off, and children stood with flags together with naval ratings who formed a guard of honour. Kvernevik School marching band also contributed to the solemnity of the occasion.
Andreas Middelthon, chair of the memorial committee, held the opening speech, where he recounted the work done to bring the monument to fruition.
Norwegian artists were invited to submit drafts for a sculpture with a content and form which could serve as a memorial, and 73 proposals were submitted. The jury unanimously opted for a draft called Articulare by artist Johannes Block Hellum.
The speech on behalf of the survivors and next-of-kin was given by Aud Iversen. She emphasised the significance of the memorial as a place of remembrance – not only for those directly affected, but also for the rest of Norway's population.
"Such a monument must be for all of us and be an expression of hope and the future – hope for a time when women and men can feel more secure both at work and in society as a whole."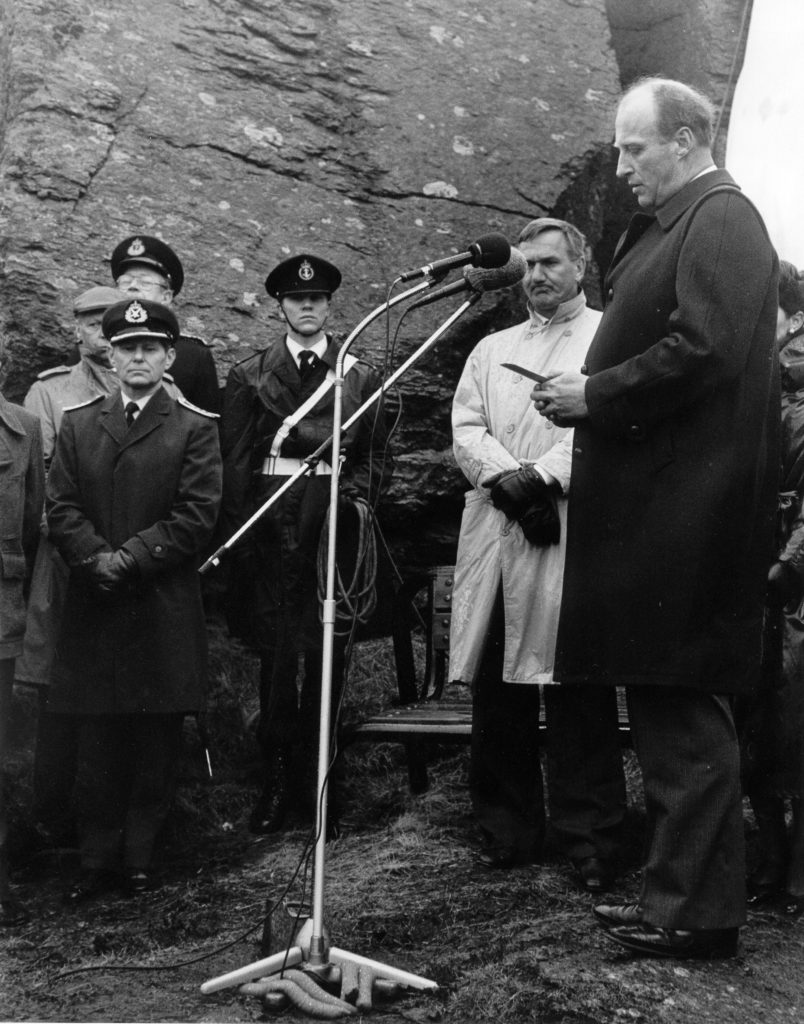 The actual unveiling was performed by HRH Crown Prince Harald, who began by pointing out that this act was not one of unequivocal joy, and that the worst industrial accident to hit Norway was an event everyone would recall with great sorrow.
At the same time as the unveiling on land, the occasion was marked throughout the Greater Ekofisk area. A minute's silence was held in memory of the dead. Many were assembled in a dignified ceremony.
The actual monument, which depicts a broken chain link, is installed on a rock on the edge of the sea at Smiodden in Kvernevik outside Stavanger.
Three plaques containing the names of all 123 deceased are positioned on a slightly inclined rock face below the actual monument, which ranks as one of Norway's largest artworks.
Made in copper, it weighs about five tonnes, stands about four metres high and is six metres long. Each link is about a metre thick. Hamy Sveis at Forus was responsible for its manufacture.[REMOVE]Fotnote: PhillipsNytt, no 3, April 1986.
Oil crisis in reverse
Final rejection