Phillips began recruiting Norwegians for offshore work from the early 1970s, and applications for such jobs rose as a result of problems in Norway's merchant fleet after the 1973-74 oil crisis. The company took on experienced marine engineers and chief engineers, who eventually formed the nucleus of operating personnel on Ekofisk.
In 1980, the government made it clear that a Norwegianisation of the oil industry workforce would be desirable in order to build up domestic petroleum expertise and make foreign operators more sensitive to Norwegian labour and industrial practices.
This process necessarily took time. During the 1980s, the national labour market was strong and securing qualified Norwegian personnel was not easy.
But the domestic proportion of the Phillips workforce rose steadily and had reached no less than 99 per cent of the company's offshore workers by 1987.
In that year, too, 96 per cent of Phillips employees on land and 72 per cent of senior executives were Norwegian. The operations organisation employed 2 489 people at the time.
Although the crude oil and natural gas liquids terminal at Teesside in the UK was organisationally subordinate to the Phillips head office in Tanager, its entire 277-strong workforce was British.
Similarly, all the 76 personnel at the gas pipeline terminal in Emden were Germans.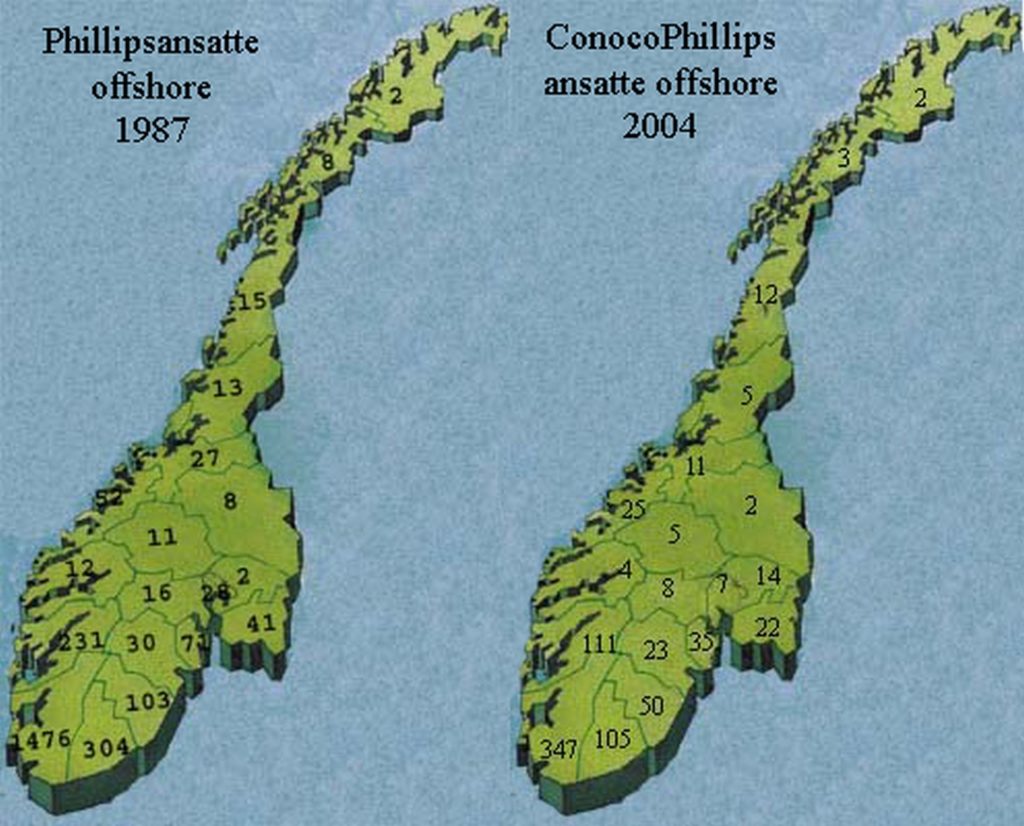 People from all over Norway worked for Phillips in 1987, with every one of the country's 19 counties represented. But the biggest concentration was naturally from Rogaland.
This county embraces Stavanger – the local authority with the largest proportion of the Phillips workforce – as well as Sandnes and Sola, which came in second and third place.
According to the recruitment guidelines adopted by Phillips, it would give preference to employing Rogaland residents as far as was possible.
The combined ConocoPhillips Norge workforce had been reduced to 1 614 people by 2004, but these employees continued to be resident in all parts of the country.
Roughly 4.2 per cent had home addresses abroad. Of these, 57 per cent were expatriates and over 41 per cent worked offshore. Only one person with a foreign address had a job on land.
The highest concentration of workers in the company – 66.5 per cent – still lived in Rogaland. Of the 819 offshore personnel, 347 or 42.3 per cent were resident in that country.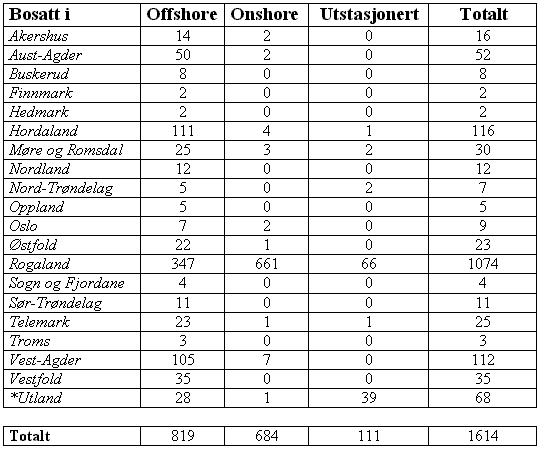 Table: ConocoPhillips employees, 2004. Prepared by Trond Alsvik.
Source: Ekofisk 4, 1987, and employee particulars for 2004.